Andrew Tate: Self-proclaimed misogynist influencer's detention in Romania extended for another 30 days | World News
Self-proclaimed misogynist influencer Andrew Tate can be held for another 30 days in Romania after his detention period was extended.
Tate and his brother Tristan are being investigated over allegations of sexual assault and exploitation.
Two women detained at the same time are now to be held under house arrest. All four deny the allegations.
Earlier this month, the British-American national protested his innocence after he appeared in court.
"Ask them for evidence and they will give you none, because it doesn't exist," Andrew Tate said. "You'll find out the truth of this case soon."
The Tates are alleged to have recruited their victims by seducing them and falsely claiming to want a relationship or marriage.
Prosecutors said the women were then forced to produce pornographic content under duress.
Kickboxer turned influencer Andrew Tate, 36, is also accused of raping one of the victims last March.
Read more on Andrew Tate:
A timeline from Twitter rows to a Romanian cell
Snapshot of controversial influencer's estimated earnings revealed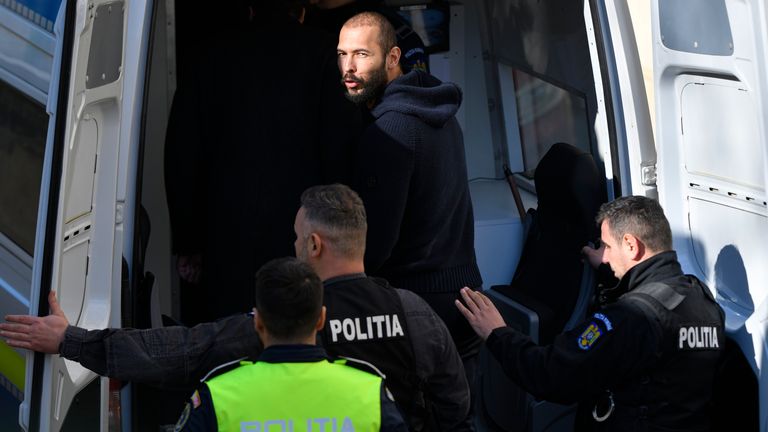 Tate arrested and his goods seized
Tate and his brother Tristan were taken into custody on 29 December last year.
Romanian authorities said they had seized goods and money worth almost £3.25m from the controversial influencer's villa, including luxury cars.
They were initially detained for 24 hours, which was then extended to 30 days. A further 30 days were added in January.
Tate is banned from Instagram, Facebook and YouTube for violating rules on "dangerous individuals" and breaching hate speech rules. He was kicked off Twitter in 2017, but allowed back in November 2022.