Anti-abortion protesters outside Glasgow hospital 'not there to hit people over head with bible' | UK News
An anti-abortion group has said members are "not there to hit people over the head with a bible" as 40 days of protest begins outside a Glasgow hospital.
The planned demonstrations at Queen Elizabeth University Hospital have been described as a "gauntlet of harassment" by Scottish Greens MSP Gillian Mackay, who is campaigning for buffer zones around health facilities to protect women seeking abortion services from intimidation.
However, the 40 Days for Life group said members are only there to pray and offer support.
'We're not there to hit people over the head with a bible'
Robert Colquhoun, director of international campaigns, told Sky News that members had felt the "wrath" of objectors for simply "standing there praying".
He added: "We're not there to hit people over the head with a bible. We're there to pray and offer help if somebody wants the help if they come up to us."
The international group – which was founded in Texas in 2004 – has been running vigils in Glasgow for around eight years.
Mr Colquhoun stated: "We have graceful conversations with passers-by. We're simply standing there praying and it's been a very fruitful vigil."
The Glasgow campaign began on Wednesday and will run daily until 2 April.
The group said it will connect people who are looking for help to the relative support service. Members will also aid those who have already had an abortion.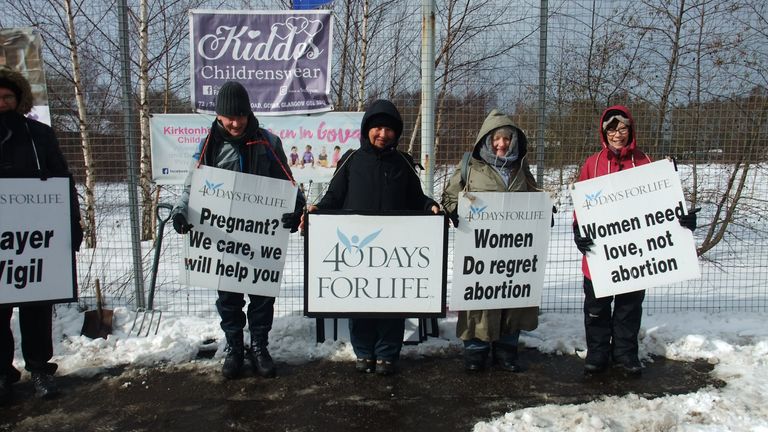 'We're being treated like criminals'
Mr Colquhoun said the vigils are a "public sign of love" that other options are available.
He added: "There's a small group of people standing praying and we're being treated like criminals.
"We're motivated out of good intentions, out of love. The idea is to be a sign of mercy for anyone who's had an abortion and a last sign of hope for anyone who's considering an abortion.
"We're not telling people what to do. We're not like the Westboro Baptist Church with huge signs saying 'go to hell' or whatever it is. We're not judging people at all. We're misinterpreted a lot."
Read more:
As Roe v Wade marks 50 years, what's changed since the landmark abortion decision was overturned?
Pregnant woman disputes ticket for using carpool lane saying foetus 'counts as passenger'
'It will be a 40-day gauntlet of harassment'
Ms Mackay, who is aiming to introduce legislation in Scotland to create 150m safe access zones around health facilities, condemned the 40-day campaign.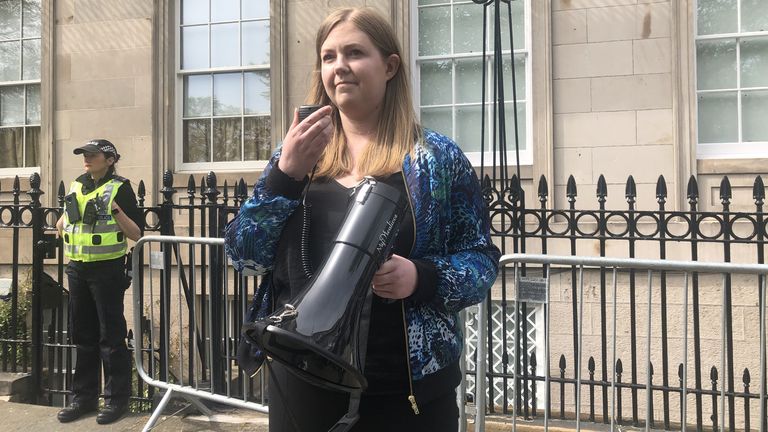 The Central Scotland MSP and Scottish Greens health spokesperson said: "These protests are a disgraceful attempt to intimidate people out of accessing healthcare. Some of the protesters carry very graphic banners and other protests have seen loudspeakers and megaphones.
"It will be a 40-day gauntlet of harassment. It is utterly unacceptable and has no place in a modern and progressive Scotland."
Ms Mackay's bill has received backing from the Scottish government, the British Medical Association (Scotland) and the Royal College of GPs.
November 2022: Down's law 'makes me feel extinct'

More than 12,000 responded to a consultation on the bill.
Ms Mackay added: "Some of the stories that people have shared with me have been really harrowing and shocking, and have underlined why this bill is so vital.
Click to subscribe to the Sky News Daily wherever you get your podcasts
"I hope that this is the last year that we see these protests. The introduction of buffer zones will set an important precedent and will be a watershed moment for reproductive rights in Scotland."
Campaign group Back Off Scotland shared a picture of the demonstrators on Wednesday, with the caption: "Protesters outside abortion facilities often cite freedom of speech as the main reason why they won't stop harassing patients.
"In an interesting twist, they have now covered supportive, pro-choice signs by the QEUH entrance.
"Freedom of speech, but only when it benefits them."