Big retailers report Christmas progress as Tesco claims win over premium grocers | Business News
Tesco says it is the only one of the major chains to have grown its market share versus pre-pandemic levels over Christmas, claiming it took business from rivals with the exception of the discounters.
The UK's biggest retailer said like-for-like sales rose 4.3% in its third quarter to 26 November and were up 7.2% in the six weeks to 7 January.
Grocery rival M&S said its like for like food sales were up by 6.3% on the same basis over the 13 weeks to 31 December.
M&S said its clothing & home offering – long a drag on the group's performance – enjoyed its highest market share for seven years with sales up by 8.6%.
Both Tesco and M&S, however, maintained their annual profit guidance.
One big name to reveal Christmas trouble was online fashion retailer asos.
It reported a 3% fall in revenue during the four months to the end of December, driven by an 8% plunge in UK sales over the four weeks to Christmas.
It blamed weak consumer sentiment and earlier cut-off dates for Christmas deliveries due to delivery problems caused by the Royal Mail strikes.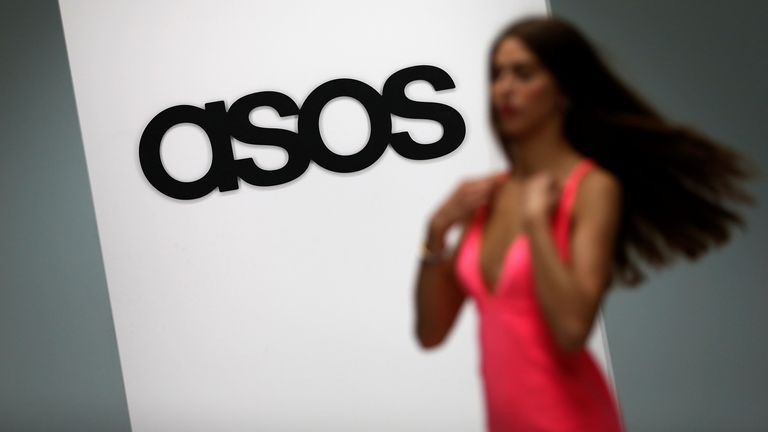 Halfords, the motoring and cycling chain, cut the range of its annual profit outlook to between £50m and £60m, from £65m to £75m.
It blamed soft demand for tyres and bikes. The company also warned that a failure to recruit enough skilled technicians at its auto-centres business would have an impact on the final quarter of its financial year.
The firms are the latest to report on their progress after a tough festive season for family budgets – squeezed by the energy-led cost of living crisis.
Food inflation reaches record levels

The overall picture for retailers' performance ahead of Thursday's trading updates has been one of resilience, however, suggesting that shoppers were prepared to relax the purse strings for Christmas amid record food inflation.
Read more
Three million ran out of credit on their energy prepayment meter last year
NatWest provides debt extension for struggling customers
It has led retail groups to express caution over consumer demand for the months ahead, while financial analysts have also questioned the extent to which company profitability has risen in line with sales.
While inflation has generally driven a surge in sales values in the company updates to date, retailers have given little away on their margins and growth in the volume of sales – the amount of goods sold.
That said, Sainsbury's and JD Sports both adjusted upwards the guidance on their annual profit expectations on Wednesday.
Next and B&M did the same last week.
Another trend to have emerged over Christmas included a dive in online sales – possibly wholly explained by the impact of strikes at Royal Mail – with more visits to physical stores replacing some of that retail space.
Shares in both Tesco and asos opened 1.5% down while M&S stock fell by 2.6%.
Halfords suffered through a 12.8% plunge.
Commenting on Tesco's sales figures Sophie Lund-Yates, lead equity analyst at Hargreaves Lansdown, said: "For all the progress, there is an elephant in the room.
"A large proportion of success is coming down to discounting. Things like Aldi Price Match and price freezes are very successful tactics, but can spell bad news for margins."
"Supermarkets had only recently rediscovered their footing before the pandemic, following years of margin degradation from an all-out price war.
"Soaring inflation and the pressure on customer spending power means history is repeating itself. The tug of war between pricing and volumes is clearly producing a good result, which is why profit expectations have been reiterated, but it's still hardly an ideal state of affairs for the big names in industry."