Fay Weldon: The Life And Loves Of A She-Devil author dies aged 91 | Breaking News News
Novelist Fay Weldon, best known for her works The Life And Loves Of A She-Devil and Praxis has died aged 91.
A family statement posted on Twitter read: "It is with great sadness that we announce the death of Fay Weldon (CBE), author, essayist and playwright.
"She died peacefully this morning 4 January 2023."
The novelist, playwright and screenwriter's body of work includes more than 30 novels – as well as short stories and plays written for television, radio and the stage.
Previously writing on her website to fans, Weldon apologised for being "out of touch for a long time," before explaining that she had been hospitalised due to suffering from a broken bone in her back and a stroke.
She wrote: "I've been out of touch for a long time, for which, my apologies.
"I have been hospitalised for much of the last year, first with a broken bone in my back and then with a stroke, therefore my silence. I am mostly recovered."
Born in September 1931, Weldon returned to the UK as a child after being raised in New Zealand.
She went on to read economics and psychology at the University of St Andrews in Scotland and later received an honorary doctorate from the institution in 1990.
Working briefly for the Foreign Office in London and as a journalist, Weldon then moved to start work as an advertising copywriter.
Leaving her career to focus on her writing, she published her first novel, The Fat Woman's Joke, in 1967. She went on to write children's books, non-fiction books and newspaper articles.
Weldon was one of the writers on the hit drama series Upstairs, Downstairs which ran from 1971 to 1975. The show's first episode won an award from the Writers Guild of America.
Her novels, including Down Among The Women (1971) and Female Friends (1975), explored issues surrounding women's relationships with men, children, parents and each other.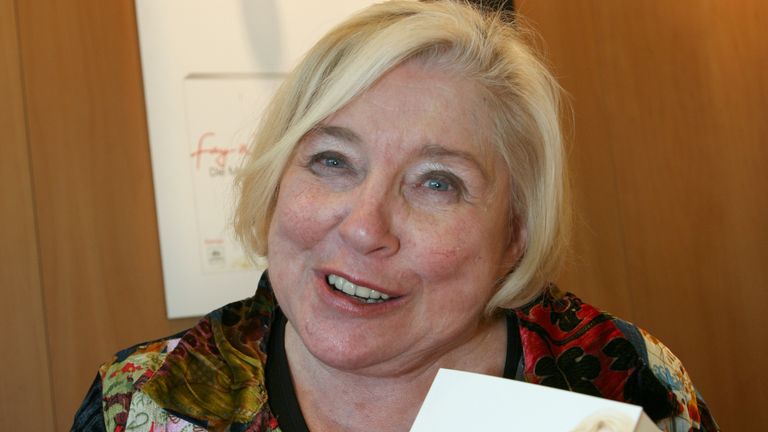 The 1978 novel Praxis was shortlisted for the Booker Prize for Fiction and later, Weldon chaired the 1983 judges' panel for the prestigious award.
At the age of 70, in 2002 she published a memoir called Auto Da Fa, and before retiring in 2021 taught as a professor of creative writing at Bath Spa University.
In 2001, she was made CBE for her services to literature in the New Year Honours list.