Glastonbury Festival releases new poster after apparent criticism from Lana Del Rey | Ents & Arts News
Glastonbury Festival has changed its poster in an apparent response to criticism from one of the Other Stage headliners Lana Del Rey.
Del Rey implied she might pull out of performing at the festival because it hadn't announced her as a headliner.
When the official Glastonbury account posted the original line-up poster on Instagram, Del Ray sarcastically commented below from her private Instagram, honeymoon: "Thanks for announcing that I was headlining the other stage. Thumbs up." The comment appears to have now been deleted.
The singer's name was also below more than 20 other acts in the poster, which, apart from the headliners, had performers in alphabetical order. Lizzo will play immediately before headliner Guns N' Roses, but has joint headline billing on the line-up poster.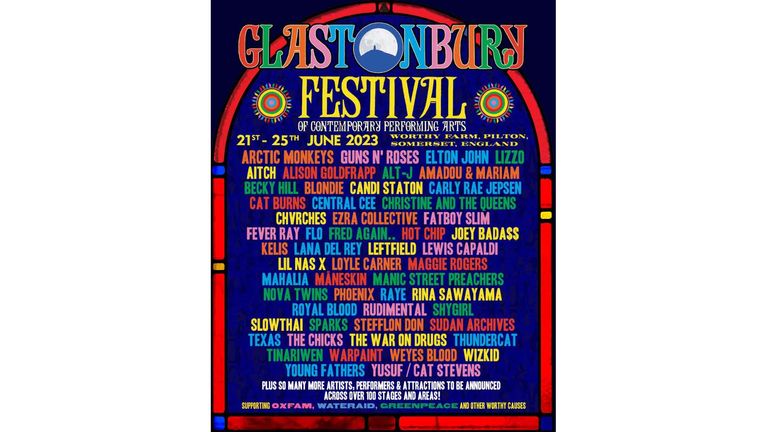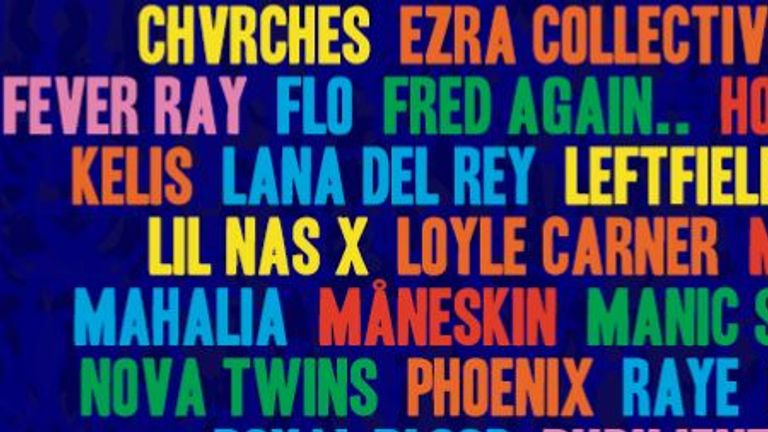 Del Rey, 37, is then reported to have suggested on her private Instagram account that she might pull out of performing.
She is said to have written: "Well I'm actually headlining the second stage. But since there was no consideration for announcing that. We'll see."
Glastonbury Festival has now released an updated poster with Del Rey moved up to the second row. It also includes new acts after the West Holts stage line-up was revealed on Tuesday.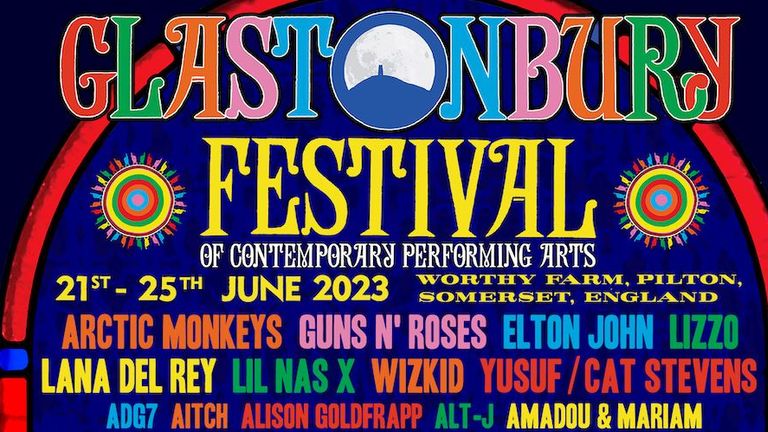 US rapper Lil Nas X, Nigerian singer Wizkid and British singer-songwriter Yusuf Islam, commonly known as Cat Stevens, have also had their names moved up to the second row.
Glastonbury Festival also attracted criticism on social media after it emerged the top three headliners were all male acts – with Sir Elton John being joined by Arctic Monkeys and Guns N' Roses.
One social media user wrote: "During Women's History Month, Glastonbury Festival announced an all-male headline bill. In 2023. Tell me why we don't need this month one more time."
Another said: "@glastonbury do better!!! All male headliners? You can't even blame lack of talent, there is a overwhelming WEALTH of amazing women to choose from."
When the line-up was announced co-organiser Emily Eavis told The Guardian a previously confirmed female headliner pulled out because she "changed her touring plans".
Sky News has contacted Glastonbury Festival for comment.