Ministers accused of having 'sinister reason' for 'not doing a deal' with nurses | UK News
The head of the UK's second biggest union has accused the government of having a "sinister reason" for "not doing a deal" with nurses to end their strike action.
Sharon Graham, general secretary of Unite, said the government is looking to privatise the NHS, which is why it "won't come to the table", and she claimed ministers were "pretending" that pay negotiations were going on.
It comes as NHS leaders are making contingency plans with the biggest walkout in the health service's history looming.
Ambulance staff and nurses are both set to go on strike on 6 February – taking industrial action on the same day for the first time ever.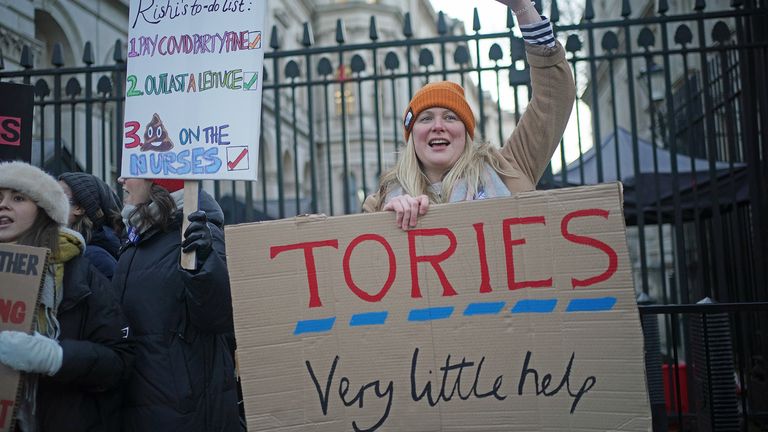 Politics latest: Cabinet minister dodges questions on Boris Johnson 'sleaze' allegations
Ms Graham told Sky News' Sophy Ridge on Sunday programme: "This employer, being the government, is not interested in doing a deal as far as the NHS is concerned.
"I have to say we are concluding now that there must be a much more sinister reason for this because this level of self-harm is unprecedented."
Asked what the reason could be, Ms Graham said: "I think that they are looking to privatise the NHS. Genuinely, I believe that they're looking at this as the moment they can privatise the NHS."
She also said that Prime Minister Rishi Sunak was "missing in action".
"Now, it's either that Rishi Sunak is not up to this job, that he doesn't want to come into the negotiating room and to do this deal or there must be another reason as to why he's allowing this self-harm to happen to the NHS."
She suggested nurses would be willing to accept a 10% pay increase, but Health Secretary Steve Barclay has ruled this out – insisting it was "not affordable".
He warned this would amount to an additional £3.6bn a year that would take money away from patient services.
Government 'doesn't want a resolution'
In perhaps her most scathing comments yet, Ms Graham said she believes it is "deliberate" that the government is "drawing out" talks.
She accused the government of "lying" on a number of issues, adding that she does not use this word lightly.
10% pay rise for nurses 'not affordable'

The alleged lies include ambulance workers not covering minimum safety levels during disputes, and that the government is continuing with talks.
"They are being disingenuous by pretending that there are talks going on about pay," she said. "There are absolutely no talks going on about pay. Every general secretary will tell you that."
She added she is "negotiating with somebody at the moment that I don't think wants resolution".
Mr Sunak has said his government is "very keen to have a constructive dialogue" with unions across the public sector – and stressed talks are ongoing to find a way of bringing strikes to an end.
He added: "But we do also need to make sure that those conversations are based on what's reasonable, what's responsible for the country as we tackle inflation, which is good for everybody if we can get that down as quickly as possible."
If you would like to be a member of the live studio audience for Can The NHS Survive?, please apply here.
If you are an NHS worker and would like to share your experiences with us anonymously, please email NHSstories@sky.uk or call 020 8167 2200.