NHS crisis: Baby had colon operation delayed because hospital 'didn't have enough doctors' | UK News
Cradling her seven-month-old daughter Isabella, who is now recovering from surgery, Zsuzsanna Tandy says: "We have very mixed feelings about being in hospital."
Isabella was born with a rare condition that affects her colon and went for an operation in Birmingham in early January.
But after she had been given the general anaesthetic, they were told the surgery couldn't go ahead that day.
"They called us back in half an hour because they cannot proceed so we had to come back," Ms Tandy says.
"I, as a mum, was stressed out, running back, why they cannot proceed and then finding out they didn't have enough doctors in the house."
On her phone, Ms Tandy has a video of her daughter waking up from the anaesthetic and a picture of her in her car seat on the way home – only to have to return for the surgery the following week.
Then, earlier this month, Isabella fell ill again and they rushed her to their local A&E in Dudley.
"Going into A&E you are stressing because what's going wrong with your daughter who's just had an operation?
"So we went into A&E and it's just the constant waiting," Ms Tandy tells Sky News.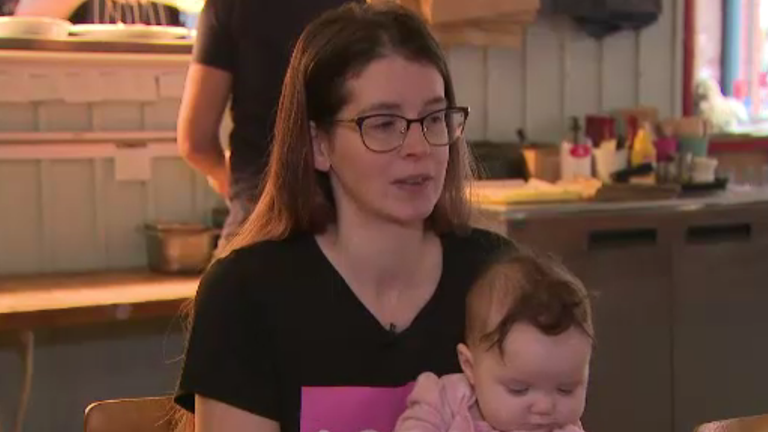 Eventually she took Isabella back to Birmingham Children's Hospital where she had another procedure and is now recovering.
She can't praise the staff there highly enough, describing them as "absolutely brilliant".
But her experiences of an NHS under pressure in recent weeks have left her concerned about the impact escalating strike action could have.
Someone needs to 'step in and do something'
"I don't blame the nurses, doctors, they do their job and they're brilliant but they're under stress," Ms Tandy says.
"There's already low staff in many wards. From other wards nurses come and help out. They do an amazing job and they work extra hours.
"If more staff go on strike, I don't know how that's going to work.
"Honestly, waiting long hours because there is not enough staff – somebody really should step in and do something because there are people and children stressing and suffering in hospitals".
She believes nurses should be paid more.
"The government should really engage in every kind of talks because there are too many strikes," she says.
If you are an NHS worker and would like to share your experiences with us anonymously, please email NHSstories@sky.uk
Earlier this week tens of thousands of NHS workers, including nurses in England and GMB union ambulance workers in England and Wales, downed tools as part of the biggest NHS strike in history.
The Royal College of Nursing (RCN) director for England, Patricia Marquis, called on Rishi Sunak to intervene but told Sky News there had been no "direct contact" from the prime minister.
NHS workers took strike action in one of the biggest walkouts in the history of the health service

Junior doctors in England are "likely" to go on strike next month in a dispute over pay and conditions, a union spokesperson said.
Nurses from A&E, intensive care and cancer wards could also join colleagues on the picket line as the RCN becomes increasingly frustrated by the government's unwillingness to negotiate.
They are set to join tens of thousands of workers including physiotherapists, teachers, university staff and civil servants as a winter of industrial action continues.
Read more:
Strikes: Who is taking industrial action in 2023 and when?
Woman feels 'imprisoned' after carer shortage forces her into care home
A Department of Health spokesperson said Health Secretary Steve Barclay has been clear he wants to continue discussing with unions what is fair and affordable as part of the 2023/24 pay process.
This includes "concerns around pay, conditions and workload to find ways to make the NHS a better place to work for everyone".
"He continues to urge unions to call off strikes and engage in a constructive dialogue about the Pay Review Body Process for the coming year," the spokesperson said.
"Our priority is keeping patients safe.
"The NHS has tried and tested plans in place to minimise disruption and ensure emergency services continue to operate."