NHS leaders making contingency plans as biggest walkout in its history looms | UK News
NHS leaders are making contingency plans as the biggest walkout in the health service's history looms.
Ambulance staff and nurses are both set to go on strike on 6 February – taking industrial action on the same day for the first time ever.
Saffron Cordery, the interim chief executive of NHS Providers, has said the proposed walkouts are a "huge concern".
'What do we want? Fair pay!'

She said: "Trusts have been warning for months that coordinated strikes were a possibility if the government and unions failed to reach an early agreement on this year's pay award."
Ms Cordery urged ministers to "get round the table with the unions urgently to deal with the key issue of pay for this financial year, otherwise there is no light at the end of the tunnel".
The Royal College of Nursing has confirmed that further strikes will take place on 6 and 7 February in a long-running dispute over pay.
But yesterday, the GMB union also announced that more than 10,000 ambulance workers – including paramedics and call handlers – are also staging a walkout on 6 February.
"It could be the biggest day of industrial action the NHS has ever seen," Ms Cordery warned.
Read more:
Sir Keir Starmer calls on Rishi Sunak to apologise for 'lethal chaos' in NHS
'The PM has to listen': Hundreds of striking nurses descend on Downing Street
Paramedics warn patients are waiting up to 26 hours to get into hospital
'I work 30 hours overtime to top up pay'

'A significant challenge'
Today, thousands of nurses are on strike at more than 55 NHS trusts in England in their second and final day of industrial action this week.
But Matthew Taylor, chief executive of the NHS Confederation, says February's dual walkouts will have a far bigger impact.
He added: "This escalation takes us deeper into the situation NHS leaders have been warning against – a war of attrition between the government and unions spanning several months at a time when NHS services are seeing unprecedented pressures.
"Health leaders will now be intensifying plans and preparations for the combined strike of nurses and ambulance workers next month, which will pose a more significant challenge than the industrial action we have seen to date."
10% pay rise for nurses 'not affordable'

Rishi Sunak has said his government is "very keen to have a constructive dialogue" with unions across the public sector – and stressed talks are ongoing to find a way of bringing strikes to an end.
The prime minister added: "But we do also need to make sure that those conversations are based on what's reasonable, what's responsible for the country as we tackle inflation, which is good for everybody if we can get that down as quickly as possible."
Also yesterday, Health Secretary Steve Barclay ruled out a 10% pay rise for nurses – insisting it was "not affordable".
He warned this would amount to an additional £3.6bn a year that would take money away from patient services.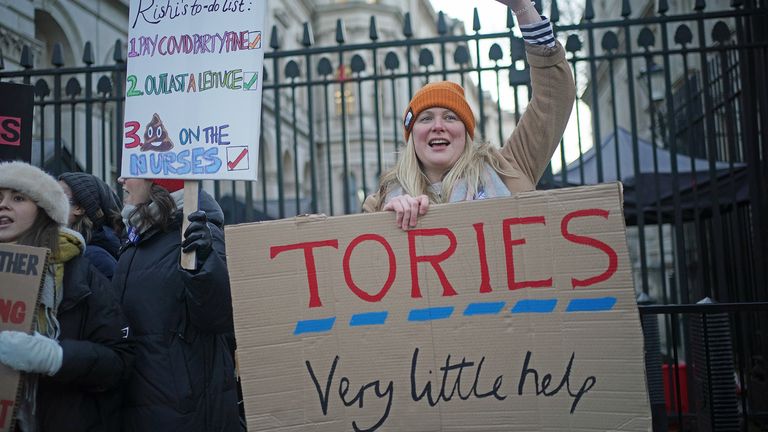 'Totally heartbroken'
The Royal College of Nursing's chief executive and general secretary, Pat Cullen, says nurses feel "totally heartbroken" at going on strike, but have no choice.
She said: "No nurse should be ashamed to say that, actually, they're really struggling to live on the meagre salaries that this government's paying them. It's their right to be paid a decent wage."
In a statement, Ms Cullen said patients had also joined picket lines on Wednesday – indicating "this is a battle for the soul of the NHS as much as it's about pay rises".
If you are an NHS worker and would like to share your experiences with us anonymously, please email NHSstories@sky.uk