Rishi Sunak fails to place full confidence in Nadhim Zahawi over tax investigation | Politics News
Rishi Sunak has refused to place his full confidence behind Nadhim Zahawi as the Tory party chairman faces an investigation into whether he breached the ministerial code over an HMRC tax settlement.
The prime minister, speaking from Chequers during an awayday with his cabinet, said he believes "in due process" when asked if he has confidence in Mr Zahawi.
He said that is why he appointed an independent adviser to investigate what happened with the Tory party chairman's tax affairs.
The PM is under increasing pressure to sack his party chairman over the ordeal.
But he again insisted he will wait for the results of an investigation to decide Mr Zahawi's fate, despite HMRC's boss saying there are "no penalties for innocent errors".
Mr Zahawi is being investigated over whether he breached the ministerial code with the estimated £4.8m HMRC settlement he made while he was chancellor, but it could extend to his previous tax arrangement and whether he lied to the media.
The PM added: "When I appointed Nadhim Zahawi to his current job, no issues were raised with me.
"But because Nadhim Zahawi himself put a statement into the public domain and there was other reporting, there are questions to answer.
"And that's why I asked the independent adviser to conduct an investigation to fully establish the facts and provide advice to me about Nadhim Zahawi's compliance with the ministerial code.
"I believe we should have integrity in politics, and we should do that in a professional way where we have an independent person look at all the facts and provide advice.
"That's the long-established process that we have and that's the process that I'm following."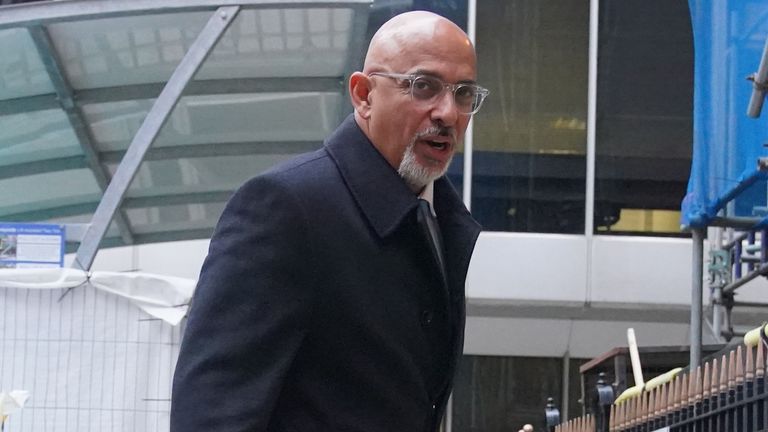 Read more: What did Nadhim Zahawi do?
Mr Zahawi has given HMRC approval to speak to the investigation, a source close to the Tory chairman said.
Earlier on Thursday, Jim Harra, head of HMRC, told MPs: "There are no penalties for innocent errors in your tax affairs.
"So if you take reasonable care, but nevertheless make a mistake, whilst you will be liable for the tax and for interest if it's paid late, you would not be liable for a penalty.
"But if your error was as a result of carelessness, then legislation says that a penalty could apply in those circumstances."
Reacting to Mr Harra's comments, the PM said he did not want to "prejudge the outcome of the investigation" and will "await the findings".