Rishi Sunak reveals he is registered with NHS GP – but went private 'in the past' | Politics News
Rishi Sunak has revealed he is registered with an NHS GP but has used private healthcare "in the past".
The prime minister has repeatedly refused over the past week to answer whether he uses the NHS or pays for private healthcare.
But during Prime Minister's Questions on Wednesday he chose to disclose he is, in fact, registered with an NHS GP.
Answering a question on how long he has waited for an NHS dentist appointment, Mr Sunak told MPs: "I am registered with an NHS GP, I have used independent healthcare in the past and I'm also grateful to the Friarage Hospital for the fantastic care they've given my family over the years.
"The truth is I am proud to come from an NHS family and that's why I'm passionately committed to protecting it with more funding, more doctors and nurses, and a clear plan to cut the waiting lists."
Mr Sunak's spokesman refused to say when the PM registered with an NHS GP but said he does not currently have private healthcare cover.
The Friarage Hospital is an NHS hospital in Northallerton, close to Mr Sunak's home in North Yorkshire.
Mr Sunak and Labour leader Sir Keir Starmer battled over the NHS during PMQs on a day when ambulance workers are striking.
Sir Keir used Mr Sunak's revelation to bring up waiting times, telling MPs: "The prime minister saying he's now registered with an NHS doctor, so he'll soon enjoy the experience of waiting on hold every morning at 8am to get a GP appointment.
"But I can tell him that those that are waiting now don't want another round of empty promises or boasting about what he's done. They just want to know when they'll be able to see a doctor."
Sparky session with an important admission from the PM
A significant development came out of this PMQs session in its first couple of minutes – from the prime minister when he admitted he had used private healthcare in the past, but was registered with an NHS GP.
This is a question he declined to answer over the weekend, claiming his own and his family's healthcare was irrelevant.
With Labour MPs now regularly making coded, or not so coded, jibes at the prime minister's expensive education, his wife's tax affairs and his use of paid-for healthcare, Sunak seems to have swiftly decided not to let this one run and run.
For someone who gets noticeably uncomfortable when asked personal questions, he obviously saw it as a dangerous narrative for Labour to push.
The pollster John Curtice has pointed out that this issue matters to voters, with two-thirds of them telling YouGov during the leadership contest last year that they considered Mr Sunak "out of touch" – his most negative trait in the survey.
Other than that, both men were, in the first session of the year, on punchy form.
Starmer had a zinger on minimum service levels in the NHS, saying: "There's not a minimum level of service any day because they have broken the NHS".
Sunak attacked Labour for not having an alternative plan to resolve strikes and tried to paint Starmer as "inconsistent" and flip-flopping. These will be the core messages, as the NHS and strikes dominate the news agenda.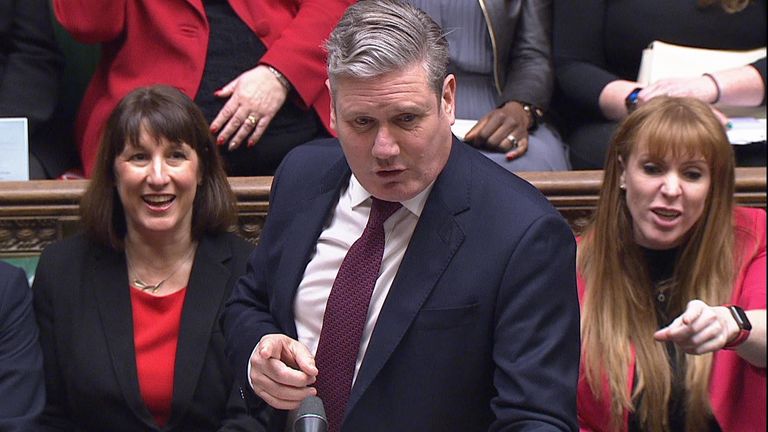 Read more:
NHS strikes to go ahead after talks break down
Who is striking and when?
The prime minister said he was "proud to come from an NHS family" and he is "passionately committed to protecting it" with more funding, more doctors and nurses planned.
But Sir Keir hit out at the PM for failing to negotiate with nurses before Christmas, saying if he had they would not be striking again next week and the same for ambulance workers.
Mr Sunak accused Sir Keir of failing to support the government's bill to introduce minimum safety levels during strikes by key workers and said he is "on the side of his union paymasters, not patients".
"They've gone from clapping the nurses to sacking the nurses," Sir Keir replied.
He also accused the government of trying to "legislate your way out of 13 years of failure" with the anti-strike bill.