SNP leadership contender Ash Regan says 'conflict of interest' over Nicola Sturgeon's husband in contest | Politics News
A challenger in the race to become SNP leader has argued there is a "conflict of interest" over the involvement of Nicola Sturgeon's husband in the contest to choose her successor.
Questioning the role of SNP chief executive Peter Murrell, Ash Regan stressed the need for the process to be "transparent".
But the party has insisted the ballot will be "free and fair" and points out it will be overseen by the elected national secretary, not staff members.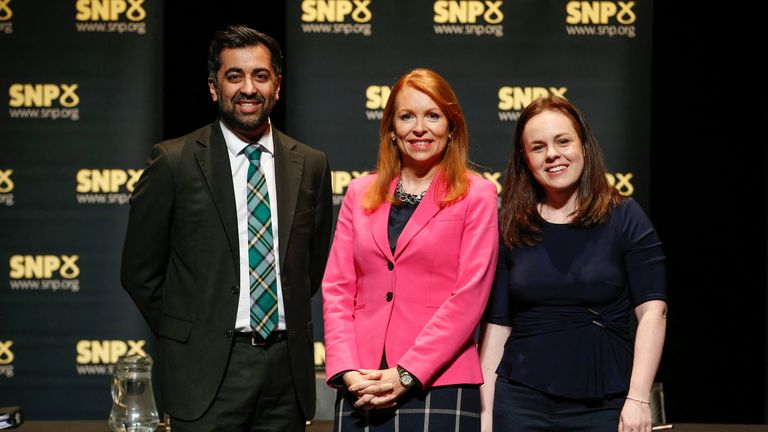 Despite being viewed as an outsider, Ms Regan also insisted she was running "to win" and said many people had contacted her recently to say she was "the only hope for the SNP".
The former Scottish government minister is up against the country's health secretary Humza Yousaf and finance secretary Kate Forbes to head the party and become first minister, as Ms Sturgeon bows out after eight years in charge.
But with Mr Murrell married to the outgoing incumbent, Ms Regan told Sky News' Sophy Ridge On Sunday programme that he is "running the contest to replace his wife".
"That would be like Carrie (Johnson) counting the votes for Boris's successor," she said.
"I think many people would think that would be fairly unusual."
Ms Regan added: "I think there is a conflict of interest here.
"My campaign team, we have set out we think it should be an independent, third-party company that should running the contest, and we have also asked for there to be a neutral observer as well, just to make sure everything is above board.
"We're the largest party in Scotland and the person that wins this contest will not just be leader of the SNP but they will actually also become the First Minister of the country.
"It is very significant, it is very important. And it is important for both the members of the SNP but also the wider country that there is trust, it is all above board and it is transparent."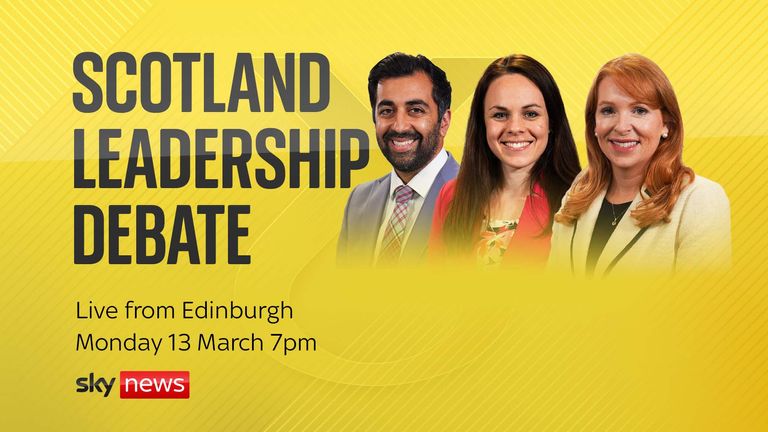 But a SNP spokesperson said: "Whoever becomes the next SNP leader will do so as a result of a free, fair and well-run election process in keeping with best practice for such ballots."
Ms Regan, who quit the Scottish government last year so she could vote against gender recognition reforms at Holyrood, accepted she is "probably the least well-known out of the candidates with less name recognition" and acknowledged that meant she had to "work that bit harder to set out my stall".
Read more:
Who are the candidates for SNP leader?
Analysis: Nicola Sturgeon was the SNP's Alex Ferguson – so will her successor be their David Moyes?
Sturgeon, SNP's 'cesspit of vipers' and a failed dream
But she said: "I'm in this competition to win it and I've been having a lot of support expressed to me by the membership."
She added: "At the moment we understand that a large amount of the membership are still undecided, it is a very short contest.
"But I have had many people get in touch with me recently to say that they think I am the only hope for the SNP.
Subscribe to Sophy Ridge on Sunday on Apple podcasts, Google podcasts, Spotify, Spreaker
"We are at a crossroads at the moment in terms of where we go next and I believe that I'm the candidate that is setting out a credible democratic means for Scotland to express its will at the ballot box and give Scotland that choice over their own future."
Sky News is hosting the Scotland leadership debate live from Edinburgh on Monday 13 March at 7pm.
Kate Forbes MSP, Ash Regan MSP and Humza Yousaf MSP will face questions from political editor Beth Rigby.
Viewers will be able to watch live and for free on Freeview channel 233, Sky channel 501, Virgin 603, BT 313, as well as on the Sky News YouTube channel and on the Sky News App and website.
There will also be further insight and analysis in the Politics Hub and on Sky News' social channels (TikTok, Instagram and Twitter) and podcasts.