SNP's Westminster group submits accounts on time to avoid losing £1.2m in public funds | UK News
The SNP's Westminster group has filed its audited accounts ahead of a deadline, the party has said.
The party faced missing out on £1.2m in public funds if it failed to meet the 31 May cut-off.
AMS Accountants Group took charge of the SNP's books earlier this month after it was revealed in April that previous auditors Johnston Carmichael quit in September 2022 following a review of the firm's client portfolio.
First Minister Humza Yousaf admitted he was unaware of the situation until he became party leader following Nicola Sturgeon's resignation.
With the accounts submitted on time, the SNP should benefit from so-called 'short money' – public funds paid to opposition parties at Westminster to support their parliamentary work.
On Wednesday, Peter Grant MP, the SNP's Westminster group treasurer, said: "I'm pleased to confirm that the annual return for the SNP Westminster group's 'short money' for 2022/23 has received a clean audit certificate and has been submitted, on time, to the parliamentary authorities.
"Throughout this process, SNP MPs have remained focused on standing up for Scotland and supporting our hard-working staff.
"We will continue to hold the Tories and pro-Brexit Labour to account for the damage their policies are inflicting on Scotland."
The SNP's next deadline is to file the whole party's audited accounts with the Electoral Commission by 7 July or risk being fined. AMS Accounting is also carrying out that work.
Read more:
Nicola Sturgeon says SNP crisis beyond her 'worst nightmares'
Scottish Tory leader Douglas Ross criticises SNP 'secrecy, spin and cover-ups'
Arrests, a luxury motorhome and a power couple's fall: The inside story of SNP police probe
News of Johnston Carmichael quitting as auditors emerged as a police investigation into the SNP's funding and finances ramped up.
Ms Sturgeon's husband, former SNP chief executive Peter Murrell, was arrested as part of the probe along with ex-treasurer Colin Beattie. Both men were subsequently released without charge pending further inquiries.
Sturgeon: Last few weeks 'very difficult'

Police Scotland launched Operation Branchform in 2021.
The long-running inquiry is linked to the spending of around £600,000 raised by supporters to be earmarked for Scottish independence campaigning.
It is understood there have been complaints the ringfenced cash may have been used improperly by being spent elsewhere.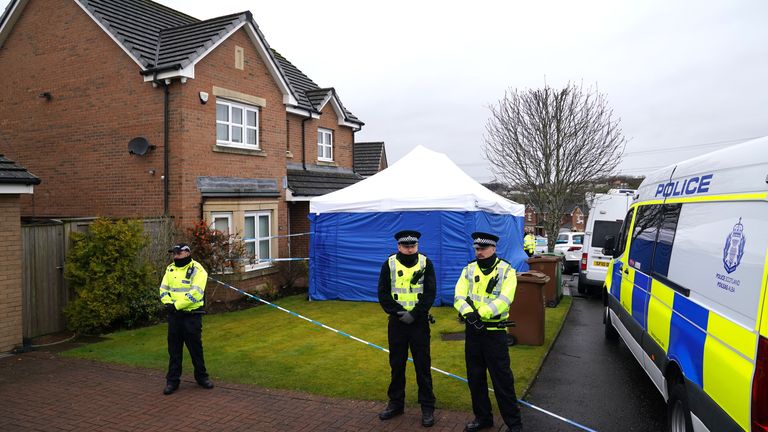 Police have searched the SNP headquarters and Ms Sturgeon and Mr Murrell's home as part of the investigation. A luxury £100,000 motorhome was also seized from outside the home of Mr Murrell's mother in Dunfermline, Fife.
The SNP said it has been "cooperating fully" with the investigation and would "continue to do so".