'Stop attacking us': Ambulance workers accuse government of 'demonising' them to justify anti-strike laws | Politics News
Ambulance workers have written to Rishi Sunak accusing his government of "demonising" them in order to justify new anti-strike legislation.
The letter from paramedics and other members of the GMB union said they were "appalled" at some of the statements from ministers in recent days and that "targeting ambulance workers for a deliberate attack is a disgrace".
"We feel utterly betrayed by the way your government has singled out ambulance workers as part of a crude attempt to remove our right to strike," the letter said.
"You and your ministers should be ashamed of the way you have tried to paint us as uncaring about safety standards – nothing could be further from the truth."
The letter appeared to point to comments made by Business Secretary Grant Shapps, who claimed ambulance workers put lives at risk by not agreeing to country-wide minimum service levels during recent strike action.
The comments were branded an "extraordinary attack" by the GMB Union, who said the strike cover agreed with trusts at a local level was thorough.
In the letter to the prime minister, the GMB pointed to data which showed ambulance delays fell on 21 December – the day of a previous strike.
"Surely you know that we have been working with NHS trusts everywhere to agree emergency cover during strike action," the letter seen by Sky News said.
"In addition to this, GMB members left picket lines to respond to emergency calls.
"Every day, we go above and beyond our contracted hours to make sure vulnerable patients are cared for and even on days of industrial action, this commitment remains as strong as ever."
The cycle of ballots, strikes and negotiations continues within the NHS, civil service and on the railways.

The letter went on to say it was not the fault of ambulance workers that the service is in crisis – with response times now the worst on record.
It said delays to getting an ambulance and then entering A&E have been going on "for months and are nothing to do with strike days".
It added: "NHS workers like us got the country through the pandemic and we're doing our very best to deal with the crisis in our NHS now, something your government has presided over and should take responsibility for.
"We want a constructive relationship with government to talk about pay and seriously improve conditions throughout the ambulance service.
"But you are making us and our ambulance colleagues feel demonised. Please talk to us and our unions. And stop attacking us now."
NHS strikes in Scotland put on hold
The letter comes as the threat of widespread strike action in Scotland's NHS has been put on hold by unions following a breakthrough in talks with the Scottish government.
The GMB, the Royal College of Nursing (RCN) and the Royal College of Midwives (RCM) said they would now enter an "intensive period of negotiations" on the 2023 pay deal – though they still have a mandate to call a strike if they are unsuccessful.
Humza Yousaf, the Scottish health secretary, said a "positive way forward has only been possible due to both sides willingness to engage and where necessary compromise".
"This is in stark contrast to the UK Government who this week introduced draconian anti-trade union legislation, which we strongly oppose," he tweeted.
"I would urge the UK Govt to follow Scotland's example and engage in meaningful dialogue with trade unions, and offer them a fair pay deal."
The UK government faced a fresh showdown with unions this week after ministers introduced new legislation requiring minimum-levels of service during strikes on key sectors.
It will mean some union members would be required to continue working during industrial action – which critics say is an attack on the right to strike.
Union bosses have vowed to fight the legislation "every step of the way" and warned it is undermining attempts to settle public sector pay disputes.
Ambulance workers in England are among thousands of public sector workers staging fresh rounds of industrial action this year to demand better pay and conditions in the face of soaring inflation.
Read More:
Around 100,000 civil servants to go on strike on 1 February
Rishi Sunak says public sector pay rises will fuel inflation. Economists say they won't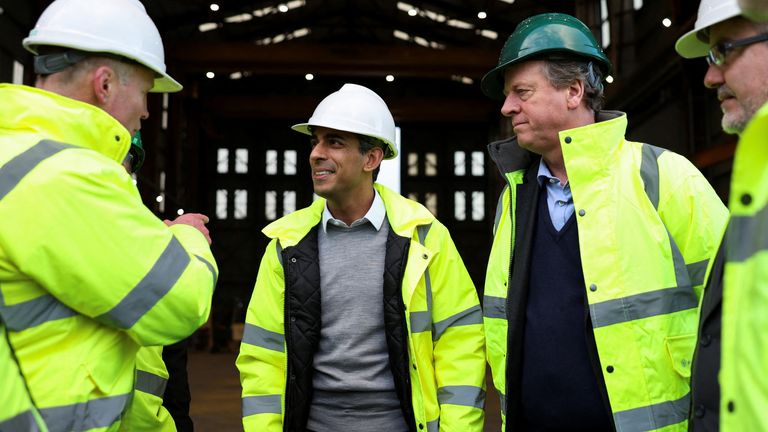 Speaking earlier on Friday, Mr Sunak said he hopes to "find a way through" the deadlock with unions to avert further walkouts.
"Look, I think with strikes it's important that we remain in strong dialogue with the unions, that's why the Government invited all union leaders in to have those discussions," he told broadcasters during a trip to Scotland.
"The discussions are ongoing and hopefully we can find a way through."