Sunak to push for returns agreement with France in bid to stop small boats | Politics News
Rishi Sunak will use talks with President Emmanuel Macron to push for a returns agreement allowing migrants to be sent back to France after crossing the English Channel.
The prime minister is set to meet the French president in Paris on Friday where he will prioritise discussing his "stop the boats" plan.
Downing Street wants a bilateral agreement that would allow the UK to immediately return people arriving illegally in southern England to France.
The meeting is unlikely to lead to a breakthrough on such an accord, with British ministers and diplomats instead privately aiming to cajole Mr Macron's administration into being a driving force behind an EU-wide returns agreement with London.
Labour said Mr Sunak will have "failed" if he comes back to the UK without a deal.
Shadow home secretary Yvette Cooper said: "We need a new agreement with France.
"Rishi Sunak will have failed if he comes back from the summit without a new returns agreement and new joint arrangements to prevent dangerous boat crossings."
The talks between the leaders come days after Mr Sunak and Home Secretary Suella Braverman, who will also meet with her counterpart in the French capital on Friday, unveiled the controversial Illegal Migration Bill.
The legislation announced on Tuesday would see asylum seekers who arrive through unauthorised means detained, deported and hit with a lifetime ban from returning.
Charities, the EU and human rights groups have argued the proposals aren't legal while questions have also swirled about how they will work in practice.
UN: 'A sad day for refugee rights'

Under the UN Refugee Convention, people escaping war or persecution cannot be forced to return there.
The government also can't return people or send them to a 'third' country – like Rwanda – unless they have agreed to take them.
Downing Street stressed that the gathering at the Elysee Palace "isn't a summit on a single issue", with energy security, the conflict in Ukraine and the "challenge posed by China" likely to be touched upon.
But the prime minister's official spokesman confirmed Mr Sunak will look to raise his ambitions of working more closely on the issue of Channel crossings.
During a visit to Dover earlier this week he told reporters: "Certainly we are going in there with an ambition to go further on stopping the boats making these dangerous crossings."
And in a briefing on Wednesday before the talks, he added: "I think these are important discussions that should deepen our work with our French counterparts on stopping the boats.
"It will build on the expansion we already saw the prime minister announce in his first few weeks [in office].
"We want a EU-UK returns agreement and will push that forward."
PM 'could green-light new deal' on patrols
There is already a multimillion-pound agreement in place with France designed to help prevent crossings and target human trafficking gangs.
A revised deal announced in November was worth around £63 million, representing a hike of about £8m from a similar pledge signed in 2021.
Under the commitment, the number of French officers patrolling beaches on the country's northern coastline rose from 200 to 300, while British officers for the first time were also permitted to be stationed in French control rooms and on the approaches to beaches to observe operations.
Nearly 3,000 people have arrived via small boats in the UK already this year but it is understood that France has successfully prevented around the same number from embarking on the journey.
Reports suggest that Mr Sunak is ready to green-light a deal that would secure a multi-year migration agreement with Paris which would include Britain paying millions of pounds to France every year for extra officers on the lookout on French beaches.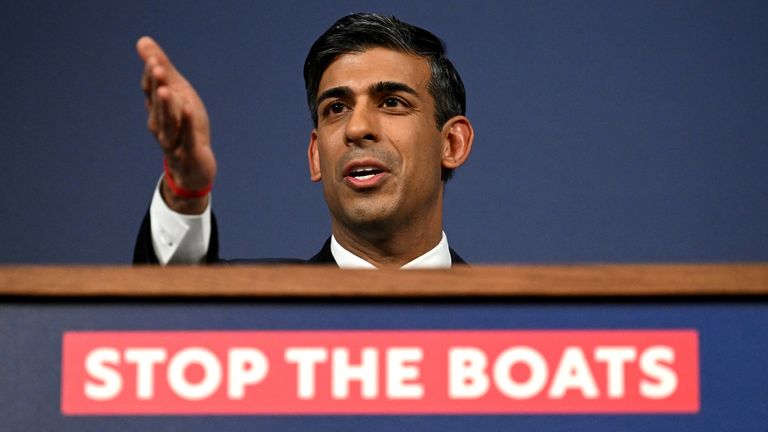 But French sources told The Independent Mr Macron is likely to reject calls for a returns agreement, after the UK disregarded his call to establish more safe and legal routes.
While the government has schemes in place for a limited number of Afghans, Ukrainians and people from Hong Kong, critics point out there is no legal route for asylum seekers from many other dangerous parts of the world.
Sylvie Bermann, a former French Ambassador to the UK, damped down the prospect of a returns agreement, telling Sky News: "We have twice as many asylum seekers than the UK so we take our part, I don't think we'd be ready to take those people back.
"We are doing our best to prevent them crossing the Channel but I am not sure we will take them back."
Read more:
EU warns immigration bill violates international law
Do refugees have a 'safe and legal' route to the UK?
'Beautiful renewed friendship'
The summit – a once regular event in the political calendar that has been revived by Mr Sunak after a five-year hiatus – is being viewed as a thawing in cross-Channel relations.
Tensions festered between London and Paris during Boris Johnson's premiership, with Brexit causing frictions and sparking disputes over fishing grounds and trade.
During Liz Truss's brief time as prime minister, she said the "jury is out" on whether Mr Macron was Britain's friend.
But Mr Macron has been seen to be on more cordial terms with Mr Sunak than the prime minister's predecessors, with Paris sources reportedly briefing that the summit should be seen as the "beginning of a beautiful renewed friendship".
The PM is set to be joined in France by members of his cabinet, with Foreign Secretary James Cleverly and Defence Secretary Ben Wallace also travelling, along with Ms Braverman.