Archie Battersbee died accidentally in a "prank or experiment" that went wrong, a coroner has concluded.
Essex senior coroner Lincoln Brookes said that Archie "hadn't intended to harm himself but had done so inadvertently" during the prank or experiment.
Mr Brookes added that Archie wanted to "shock his mum as she came out of the bedroom to find him doing something shocking or reckless" or he was "just experimenting".
He said: "It probably went wrong very quickly and very badly."
He added it was "possible" that Archie had been taking part in an online challenge, but he had not seen evidence of this.
Read more:
Hollie Dance tells inquest she believes son's death was result of tragic accident
Archie Battersbee: Hundreds of mourners gather at funeral for 12-year-old boy
Mr Brookes had considered a conclusion of suicide but ruled this out, adding: "It seems to me that while there were periods of low mood and very low mood during the previous 12 months, in the days preceding his death I haven't received any evidence of that."
Speaking outside the court after the inquest, Archie's mum, Hollie Dance said the coroner had reached the "right decision".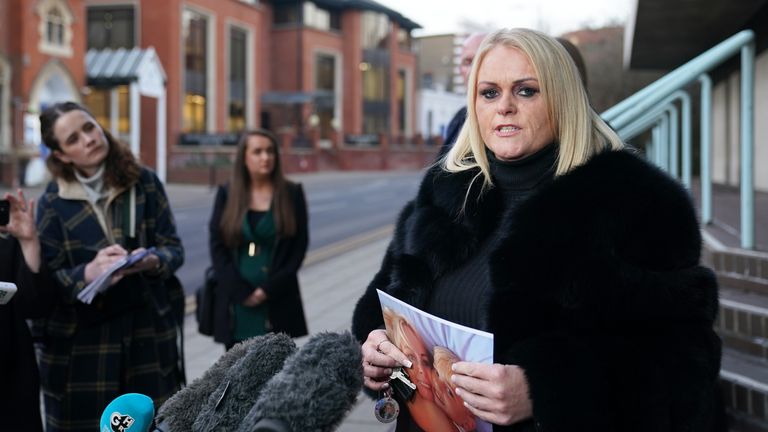 It had helped her with "some of the answers, but not all".
She said: "It's time to allow us as a family to grieve."
She wanted people to remember her son as "fun-loving, very energetic, one of the most talented children I know".
Meanwhile, Mr Brookes had said Archie was "full of energy" and "very physical" and that he was "at times very bored".
He added that Archie liked to "trick" and carry out "stunts" that would "alarm people".
August 2022: How Archie's story unfolded

On the day of the incident in April 2021, Archie had gone out to lunch with his mum, before shopping at Tesco, where he had told her he needed a new coat.
When they got home, she said he had been joking around and playing with their pet rabbit.
They had planned to go to the cinema after and discussed what was on.
That was the last conversation they had, as 10 minutes later, Ms Dance said she found Archie unconscious on the stairs.
Archie would remain on life support until 6 August 2022, when it was withdrawn after his parents failed to overturn a High Court ruling that doctors could lawfully do so.
The 12-year-old died of a brain injury, according to the coroner.
Archie's family wanted the inquest to address the issue of online safety, in a similar way to the inquest into the death of 14-year-old Molly Russell, which found she died from "an act of self-harm while suffering from depression and the negative effects of online content".
Ms Dance said her family had experienced trolling and that online abuse was a "major issue that really does have to be addressed".