Harriet Harman, the chair of parliament's partygate inquiry, was in personal contact with Sir Keir Starmer's incoming chief of staff Sue Gray while she was still a civil servant.
In the early stages of the parliamentary probe, the veteran Labour MP privately said of her fact-finding efforts: "I just speak to Sue."
Sky News understands the contact was direct and not via parliamentary or civil service officials.
At the time, Ms Gray had concluded her own report into lockdown-breaking parties in government and was running the constitution unit at the Cabinet Office.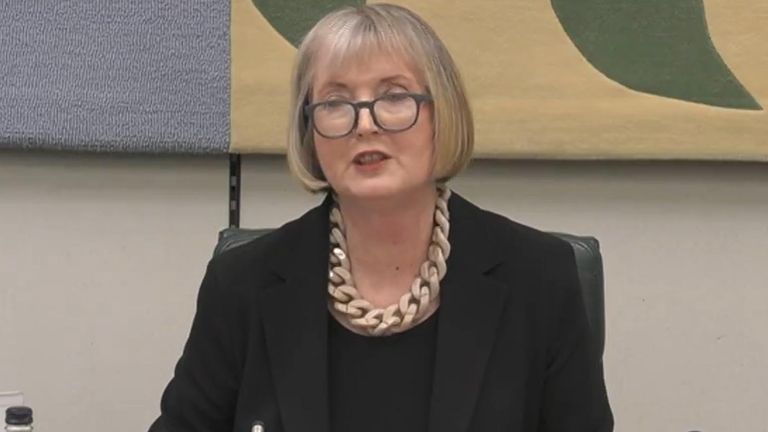 In March this year, Sky News broke the news that Ms Gray was in secret talks with Labour about becoming Sir Keir's chief of staff.
Within hours she had quit the civil service in order to take up the role.
She is now awaiting a ruling from ACOBA (the Advisory Committee on Business Appointments) on how long she must wait before taking up the position.
Last week, we revealed these conversations between Labour and Ms Gray began in October 2022.
There is no suggestion Ms Harman was aware of Labour's plans to recruit Ms Gray at the time of her conversations, or that the contact continued after Ms Gray was first approached by aides to Sir Keir.
A privileges committee spokesperson said: "It was the duty of the chair to make contact with anyone, including Sue Gray, who might be able to indicate potential witnesses. The only evidence the committee will rely on it is that which is separately and independently verified by the relevant witness. The privileges committee is not relying on evidence gathered by Sue Gray.
"The chair with the full knowledge of the committee has had regular contact with a number of ministers and officials in the Cabinet Office to discuss matters such as the provision of documents to the committee, the identity of potential witnesses and the welfare of civil servants who may be affected by the inquiry."
Speaking to Sky News, Jacob Rees-Mogg, MP for North East Somerset, said "the question has to be asked" over whether Ms Harman was accurate and straight forward during her role as chairman.
"What is really important [is that] Sue Gray may have been, through secret back channels, an important part of the chairman's role within the inquiry," he said.
"As this is all about strict accuracy and whether things are misleading or not misleading, the chairman has a duty to the committee to be very straight forward. And the question has to be asked, did she achieve this?"
Ms Harman and Ms Gray have not responded to requests for comment.