The mother of one of the boys who died in a car crash in North Wales has told other parents to "hold your loved ones tight" in a tribute to her son.
Harvey Owen, 17, was found in a silver Ford Fiesta in Snowdonia (Eryri) on Tuesday with friends Wilf Fitchett, Jevon Hirst and Hugo Morris, who are aged between 16-18.
They were reported missing from an overnight camping trip, which sparked an urgent police search until they were found in an overturned car, which was partially in water off the A4085 at Garreg, near Tremadog.
Harvey's mother, Crystal Owen, said it is "unbearable to think" he will always be 17 and "even harder to accept".
'Please hold your loved ones tight'
"There is never a time to lose a child but this feels so much more gut wrenching as he was literally thriving in life and had everything to live for," she added.
"Please hold your loved ones tight, all the minor things we worry about are irrelevant, life is so short and can be so cruel.
"I've lost my boy, the boy I absolutely adored, and I can't accept that I won't be able to hold him again or tell him I love him again."
Superintendent Owain Llewellyn, from North Wales Police, said earlier this week the crash appeared to be a "tragic accident" but that the investigation into why the car left the road is ongoing.
Read more:
'Touching to see so many pay respects' to four boys killed
Mother describes 'nightmare' after son among four teenagers found dead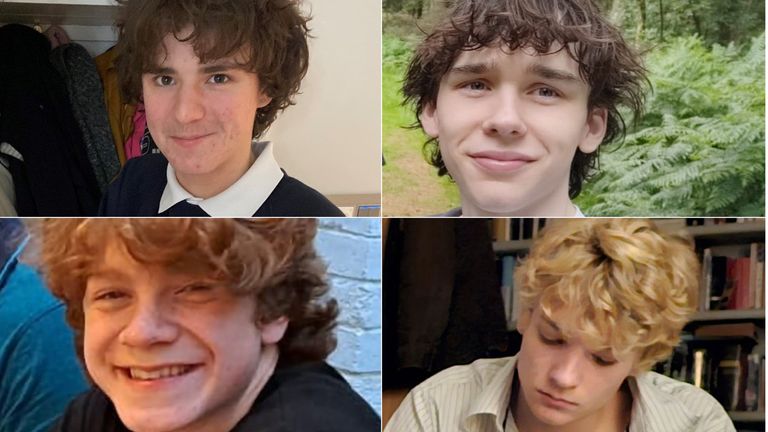 In an update on Wednesday, he said officers were now being assisted by members of the North West Underwater Search Team and that the road would remain closed in the meantime.
Harvey leaves behind an older sister, Yasmin, whom Crystal said he "idolised" growing up, and two younger sisters, Olivia and Sophia, whom he was "never too old" to hug.
'Forever a son we can be proud of'
"From the moment Harvey was born, he was special, a truly longed for baby who made me feel so complete and a much-wanted sibling for Yasmin," Crystal said.
"Laid back, charismatic, cheeky, a boy not of his time, he always thought outside the box, he was creative and funny. A boy that preferred to be outside and active."
Crystal described him as "quirky, a trendsetter, loving, pure and hilarious" while also being "so dopey at times" but too "lovable" to stay mad at for long.
He dreamt of one day owning his own café, Crystal said, having recently developed a passion for working with bread.
"He never caused ill will, he did no harm, he wronged nobody, he was and will forever be a son we can be proud of," Crystal added.
"Harvey was perfect when he came into the world and he will go out that way."