Medical chiefs have called for an independent third party to broker talks between junior doctors and the government.
The Academy of Medical Royal Colleges urged both parties to "rapidly engage" with an organisation to work out "how the deadlock can be broken for the sake of patients and the wider NHS".
The 96-hour strike from 11-15 April saw an average of 26,145 staff per day walk out as a result of the dispute over pay.
Nearly 200,000 hospital appointments and procedures in England had to be rescheduled, according to NHS England data.
This included 20,470 inpatient procedures and 175,755 outpatient appointments – making a total of 196,225.
Medical leaders said on Wednesday that the Academy was concerned a solution had not yet been reached and issues needed to be "addressed as a matter of urgency".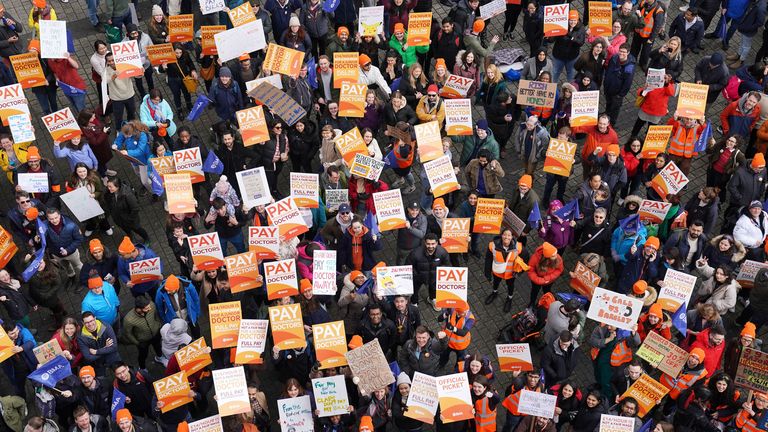 "All colleges are keenly aware of the concerns and frustration of doctors throughout the NHS and the intense workload pressures they, along with other NHS professionals, are facing as a result of workforce shortages and as a legacy of the Covid-19 pandemic," a statement read.
"These are issues which do need to be addressed as a matter of urgency and junior doctors have the support of the Academy and their own colleges in doing this.
Read more:
Emergency care to be prioritised
'Huge concern' over worst NHS strike yet
Health secretary 'willing to engage' with medics
"We urge both parties to engage swiftly and to enter negotiations with a commitment to work constructively and to offer flexibility.
"To this end both parties need to rapidly engage with an independent organisation to work out how the deadlock can be broken for the sake of patients and the wider NHS."
Inside the junior doctors' strike

It comes after the NHS national medical director Professor Sir Stephen Powis said the strikes were having a "colossal impact" on planned care in the NHS, with staff now having "an immense amount of work to catch up on".
"We have now seen nearly half a million appointments rescheduled over the last five months, and with each strike, it becomes harder," he said.
"While our staff are doing all they possibly can to manage the disruption, it is becoming increasingly difficult and the impact on patients and staff will unfortunately continue to worsen."
35% pay rise for doctors 'not reasonable'

The British Medical Association (BMA) union has demanded a 35% pay rise for junior doctors to bring salaries back to 2008-2009 levels.
But Health Secretary Steve Barclay described the BMA's call as "unreasonable" and accused junior doctors of taking a "militant stance" and timing a four-day strike after the bank holiday to cause "maximum disruption" for patients.