The UK will send RAF aircraft and Royal Navy ships to carry out surveillance over Israel in a show of support following the Hamas incursion over the weekend.
RAF aircraft will begin patrols in the next 24 hours while two ships will be sent to the eastern Mediterranean.
A Royal Navy task group will be moved to the eastern Mediterranean next week and will include two ships – RFA Lyme Bay and RFA Argus.
The military package will also see P8 aircraft, surveillance assets, three merlin helicopters and a company of Royal Marines put on standby "to deliver practical support to Israel and partners in the region, and offer deterrence and assurance".
Israel 'strikes Syrian airports'; 447 children killed in Gaza – Israel-Gaza latest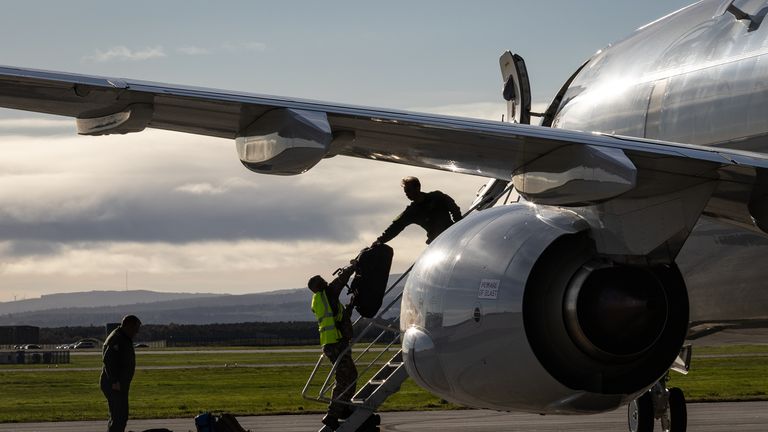 The prime minister has also asked for all military teams in Israel, Cyprus and those across the region to be bolstered to support contingency planning and the efforts of neighbouring countries to deal with the impact of instability in Israel.
Rishi Sunak said the "deployment of our world-class military will support efforts to ensure regional stability and prevent further escalation".
Gaza hospitals 'risk turning into morgues'

"We must be unequivocal in making sure the types of horrific scenes we have seen this week will not be repeated," he added.
"Our military and diplomatic teams across the region will also support international partners to re-establish security and ensure humanitarian aid reaches the thousands of innocent victims of this barbaric attack from Hamas terrorists."
The military support is just the latest provided by the UK in the wake of the surprise attack by Hamas on Saturday.
Analysis: PM has limited options
Sky News visits site of music festival massacre

To date,1,300 Israelis have died while 1,417 Palestinians, including 447 children, have been killed in retaliatory strikes in Gaza – where electricity, water and fuel has been cut off.
Israel has said it will keep blocking supplies until Hamas releases nearly 100 hostages.
The Foreign Office said flights have been organised to get British nationals out of Israel, with the first plane for "vulnerable" people expected to depart today.
PM has limited options when it comes to demonstrating military power
A decision by the UK to mobilise spy planes and support ships to the eastern Mediterranean is a solid show of solidarity with Israel – but not a demonstration of potent military strength.
The US deployed a huge aircraft carrier, bristling with fighter jets and flanked by a task group of heavily armed warships in the wake of last weekend's atrocities by Hamas.
The problem for Rishi Sunak is that a massively reduced Royal Navy and Royal Air Force following decades of cost-saving cuts means his options when it comes to projecting power are pretty limited.
Read the full analysis here
A rapid deployment team is also on its way to assist British citizens on the ground.
Read more:
Hundreds of children and women killed' in Gaza
Gaza ground offensive will be 'high-risk and very dangerous' for Israel
At home, the government also announced it would provide an extra £3m in funding to increase the number of guards at Jewish schools following reports that some had been forced to close over fears of the safety of pupils.
One Jewish charity, the Community Security Trust (CST), said it had seen a 324% increase in reports of antisemitism as a result over the last four days, including six assaults, 14 direct threats, three instances of vandalism, and 66 cases of abusive behaviour.
Survivor's heartfelt talk with Blinken

Mr Sunak is due to speak to northern European leaders about the situation in Israel at the Joint Expeditionary Force summit in Sweden on Friday.
They are expected to discuss the need to work with countries in the Middle East to support stability while also maintaining support for Ukraine from Russian aggression.