One woman will be diagnosed with breast cancer every 10 minutes in this country and one man every day and yet until the 1990s it wasn't a topic for discussion. Ever.
Evelyn Lauder, whose mother-in-law Estee Lauder founded the famous cosmetics company of the same name, was one of the first to change that.
Co-creator of the pink ribbon in 1989, a few years later Lauder signed up the actress and model Liz Hurley to be the global ambassador for the Estee Lauder Companies' Breast Cancer Campaign.
The move helped open up the breast cancer conversation.
Hurley, whose grandmother died of breast cancer, tells Sky News: "I think we've come a long way in the years that I've been with Estee Lauder Companies' breast cancer campaign.
"Certainly when the campaign was started 30 years ago there was virtually no awareness of breast cancer.
"The pink ribbon hadn't been invented. October as Breast Cancer Awareness Month didn't exist.
"When my grandmother was diagnosed in the early 90s she found her own lump and was mortified and embarrassed and didn't tell anyone including her doctor for about a year by which time unfortunately it had spread. So that's why this campaign was started to try and make breast cancer not something that was whispered but shouted about."
And yet despite all the publicity every October, 10% of women never check their breasts and two in five rarely do.
They think it will never happen to them but Hurley says that's a big risk.
She continues: "Unfortunately one in eight of us will get breast cancer in our lifetime. So it's sort of playing the odds quite dramatically if you think you won't be one of those eight.
"I think it's probably better when you're of the age to get screened, which is 50 plus in the UK, and I personally believe because I know so many women who found their own lumps in their own breasts when they're younger, that I feel it would be good advice to check your breasts regularly.
"But I think knowing that mortality rates have dropped more than 42% since the late 80s is because treatments are better, treatments are targeted and most breast cancers are found earlier."
Breast cancer remains a taboo subject in some Asian and African communities, where cancer treatment can amongst other things affect fertility.
Hurley says: "'It's very important for us to learn about these difficulties. Different types of breast cancer affect different types of women very differently. And we're finding out more and more about that and putting more and more of our research money actually into studies to examine how breast cancer can affect diverse communities."
Read more from Sky News
Julia Ormond accuses Harvey Weinstein of sexual assault
Victoria Beckham breaks silence on David's alleged affair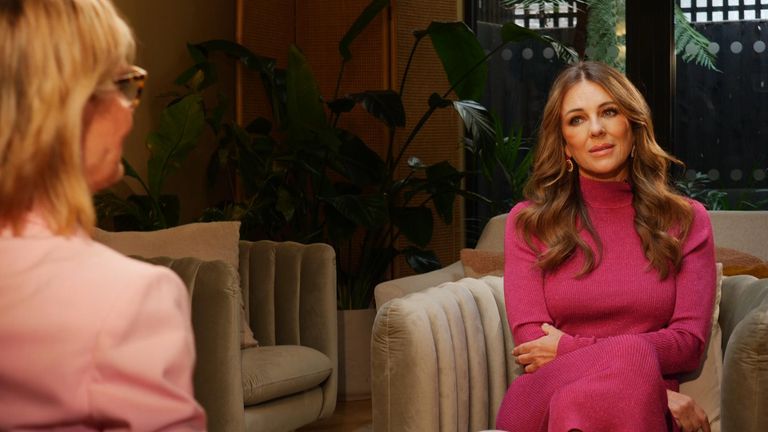 Going to the GP quickly can be the key to surviving this disease, which still kills 11,500 women in the UK every year, or 31 every day.
And if you find a lump it will be acted upon.
Hurley continues: "'From the women I've spoken to if they found a lump in their breasts the NHS deals with it very quickly in taking them to the next stage, which is biopsy.
"Most people sort of know their bodies and we know if something doesn't feel right.
"It might not be something as tangible as a lump. It could just be feeling bad and then in that case you have to be very firm and try and get as many tests as you can – at the very least a blood test. I would advise people if they feel something is wrong to be as persistent as you can with your doctor."
Scientists are closer to finding a cure than they were 10 years ago but they are not there yet.
Hurley says: "The fact that there's targeted treatments now means women are more likely to survive today than in the past. But everything hinges on early detection, for a breast cancer to be found early and it's still localised there's more than a 90% chance of survival.
"I would say be breast aware, familiarise yourself with your own breasts. Be aware of any changes and don't be afraid to go to the doctor. Quickly. Speed is of the essence."