Families evacuated from Sudan have been "left stranded" after being evicted from government allocated hotels, according to the charity Goodwill Caravan. 
It says dozens of families have been told they are not eligible for housing due to members holding British passports.
Noura Fadel fled Sudan with her parents and two brothers on April 30.
"On arrival to the UK my father had a stroke and has been in a hospital near Stansted Airport, while the rest of us stayed at a nearby hotel," she said.
Speaking through an interpreter, she told Sky News the hotel evicted them on Thursday afternoon. Noura said they stayed on the streets until 2am before a local council gave them a room, only to be evicted from there by the morning. She says they then sat in a KFC restaurant in south London with nowhere to go.
"We are so tired and confused. My family are in disbelief, how has this happened to us? We had money and a house and a life then the banks closed and we couldn't get any money out to escape," she said.
"The only reason why we came to this country is because my father is British."
"We're hours away from my father now," Noura said. "I am scared that if anything happens to my dad then how will we get to him?"
Read more:
Inside war-torn Sudan where people are trapped in prison of urban warfare
Evacuation mission from Sudan ends with more than 2,000 brought to safety
Husband reunited with pregnant wife in UK after fleeing Sudan
Goodwill Caravan says more than 20 families are in need of help in the London area but that unlike those fleeing Ukraine, the Sudanese evacuees are not categorised as refugees because they have British passports, and so a "loophole" in the system has left them stranded.
"These people have fled violence and seen unspeakable trauma in Sudan. They don't want to be here, they have their own homes in Sudan, but between night and day there were bodies on the streets so they had to flee. Now they are being evicted," Hanan Ashegh, the charity's founder, told Sky News.
"Some people are lucky because they have family members who can temporarily take them in, but many have nowhere to go.
"They've paid all their savings to get to safety and have nothing left and no access to their bank accounts in Sudan."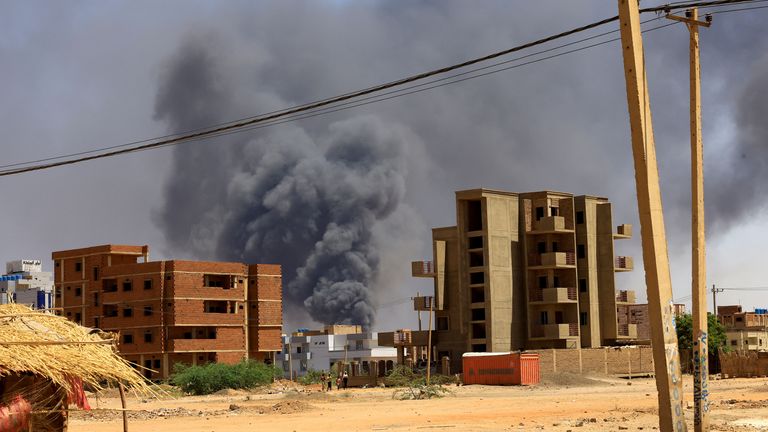 Fatima Elabgari provides translation services and helps those arriving from Sudan. She told Sky News one local council gave a family an unfurnished home.
"The kitchen doesn't have a single item. Not even a spoon."
"I'm taking calls in the middle of the night to help people who fled with just a few basic essentials. I've worked with 62 families up until now."
A government spokesperson said: "We have been working intensively to evacuate British nationals and their dependents since the outbreak of violence in Sudan, in a complex and highly volatile environment.
"Councils have a duty to ensure families are not left without a roof over their heads. When arrivals do not have immediate access to accommodation, councils may provide emergency overnight accommodation and support for people to move into longer term housing."
UK nationals returning from Sudan can access benefits, social housing, and homelessness assistance even if they are not habitually resident in the UK.
Further to guidance issued by DWP on April 27, Sky News understands the government now intends to change the rules so that the Habitual Residence Test is disapplied to UK nationals returning from Sudan, subject to parliamentary approval. In the meantime, local authorities are advised to seek to apply maximum flexibility.
Around 2,450 people were evacuated via Wadi Saeedna airfield and Port Sudan since evacuation flights started on April 25.
The UK government concluded its evacuation operation on May 4 and announced that it will provide £5million of lifesaving aid to people fleeing Sudan.