A convicted Holocaust denier who spent two years on the run is to be extradited back to France, a Scottish court has ruled.
Vincent Reynouard, 54, was arrested in November last year after being tracked down in Fife.
During a hearing at Edinburgh Sheriff Court on Thursday, Reynouard was told he will be returned to his homeland to stand trial on charges including "public trivialisation of a war crime" and "public incitement to hatred".
The Frenchman's lawyers had argued that UK extradition law only allows people to be sent back to their homeland if there is an equivalent British crime to the one that foreign states plan to prosecute them for.
Defence advocate Fred Mackintosh KC stated there was no equivalent law in Scotland to Holocaust denial and that this should stop his client from being extradited.
However, Sheriff Chris Dickson ruled against the defence.
In a written judgment explaining his decision, Sheriff Dickson wrote about how Reynouard published a video online.
Sheriff Dickson concluded that although Reynouard "did not call for the extermination of the Jewish people", his actions in the video would constitute an offence under Scottish law and due to that he could be extradited.
Reynouard was apprehended in Anstruther on 10 November 2022 on a Trade and Cooperation Agreement warrant.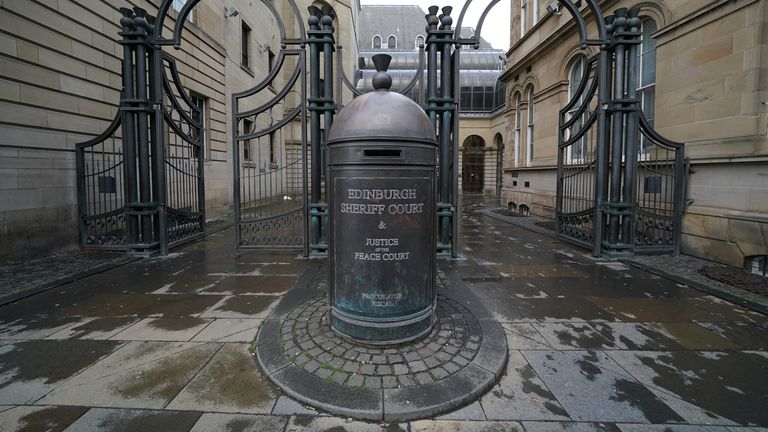 He is wanted in France as the authorities there believe he is guilty of denying the Holocaust took place. The act of Holocaust denial is an offence in France.
Reports say Reynouard was using a false identity while working as a private tutor after evading authorities for two years before being arrested.
The search was led by France's Central Office for the Fight against Crimes against Humanity and Hate Crimes.
The investigation began after the memorial of Oradour-sur-Glane, where Nazi troops killed and destroyed an entire village in June 1944, was vandalised by graffiti which read "Reynouard is right".
Read more from Sky News:
Israel PM says Hamas is 'enemy of civilisation' and 'will be crushed'
Ex-Formula One boss Bernie Ecclestone avoids jail after pleading guilty to fraud
Reynouard was first convicted of Holocaust denial in 1991.
He was detained after handing out leaflets denying the existence of gas chambers among high school pupils.
In 1997, he was sacked from his job as a maths teacher at a secondary school in Honfleur, Normandy. His dismissal came after the discovery of revisionist texts on his computer hard disk.
He was also found giving his students statistical equations regarding the rate of mortality in Nazi concentration camps.
In 2005, Reynouard was sentenced to a year's imprisonment and fined €10,000 (£8,600) by a court for writing a 16-page brochure entitled "Holocaust? Here's what's kept hidden from you".
This was sent to French tourism offices, museums and town halls.
In 2015, he was sentenced to two years in jail by a court in Normandy for denying the Holocaust in a series of Facebook posts.
His most recent conviction came in November 2020 for posting a Holocaust denial video on YouTube.