Education Secretary Gillian Keegan was caught on camera complaining about not being thanked for doing a "f***ing good job" over the unsafe concrete crisis.
After an interview with ITV News in Westminster, the cabinet minister criticised others for being "sat on their arses" and claimed the government had gone "over and above" in addressing concerns relating to reinforced autoclaved aerated concrete (RAAC).
She said: "Does anyone ever say 'You know you've done a f***ing good job because everyone else has sat on their arses and done nothing.
"No signs of that, no?"
Rayner gets new role in reshuffle – follow politics latest
Stephen Morgan MP, Labour's shadow schools minister, said her comments were a "staggering admission that Rishi Sunak and the Conservatives have done nothing to address a problem that they have known about for years".
"The education secretary has displayed staggering arrogance for saying she deserves a pat on the back for the chaos that is gripping our schools on their watch," he said.
"Families, school leaders and school staff deserve an immediate apology for these appalling comments."
Ms Keegan is due to be interviewed on the Politics Hub with Sophy Ridge on Sky News tonight at 7:30pm.
A Number 10 source said her comments were "wrong" but the prime minister "has full confidence in his education secretary".
Thousands of pupils face disruption at the start of term this week following a last-minute order to fully or partially close 104 schools because of concerns about RAAC.
Pupils face being taught in temporary classrooms, on different sites or even forced into pandemic-style remote lessons.
Mr Sunak has acknowledged hundreds more schools in England could be caught up in the crisis as he faced accusations he failed to fund a programme to replace ageing classrooms while chancellor.
The prime minister said that 95% of England's schools were unaffected, leaving open the possibility that more than a thousand could still be impacted by concerns about RAAC.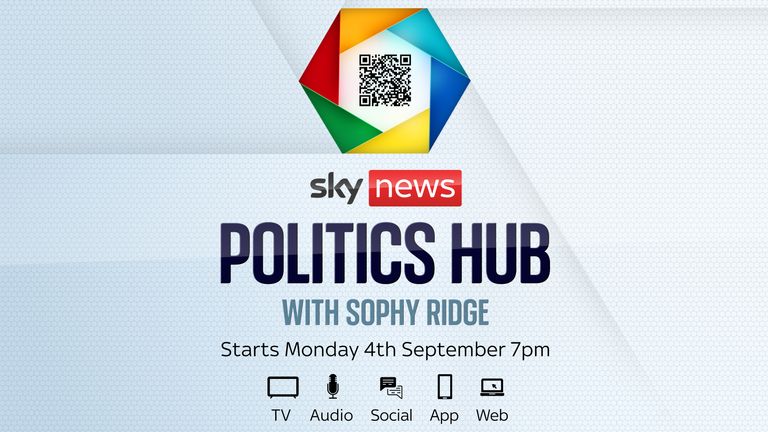 Mr Sunak said: "New information came to light relatively recently and it's important that once it had, that the government acted on it as swiftly as possible.
"Of course I know the timing is frustrating, but I want to give people a sense of the scale of what we are grappling with here: there are around 22,000 schools in England and the important thing to know is that we expect that 95% of those schools won't be impacted by this."
But critics have accused the Tories of a "shambolic" handling of the situation, saying concerns about the material have been well known for years.
RAAC is essentially a lighter-weight form of concrete, used to build roofs, schools, colleges and other buildings from the 1950s until the mid-1990s.
Experts have long-warned the material has now reached the end of its shelf life and is liable to collapse.
Earlier Jonathan Slater, who was secretary at the Department for Education (DfE) from May 2016 to August 2020, claimed the Treasury had failed to fully fund school rebuilding schemes – including during Mr Sunak's time at the helm.
He said up to 400 schools a year need to be replaced, but the DfE only got funding for 100, despite the government knowing there was a "critical risk to life".
Mr Sunak dismissed that criticism as "completely and utterly wrong".
But Labour insisted he "bears huge culpability for his role in this debacle" – saying funding for rebuilding schools has been slashed over the years.
Analysis published by the party found that spending on school rebuilding between 2019 and 2020 was at £765m, but this fell to £560m the following year.
Spending dropped again to £416m in 2021 to 2022, the party said.
Read more:
RAAC crisis: Obese patients can't be moved from ground floor at hospital
RAAC: The once wonder material causing a chaotic start to the academic year
Bridget Phillipson, the shadow education secretary, said: "The defining image of 13 years of the Conservative-run education system will be children sat under steel girders to stop the roof falling in.
"Rishi Sunak bears huge culpability for his role in this debacle: he doubled down on Michael Gove's decision to axe Labour's schools rebuilding programme and now the chickens have come home to roost – with yet more disruption to children's education."