Publisher Puffin has announced the release of the Roald Dahl classic collection "to keep the author's classic text in print" – following widespread criticism of his books being re-written.
The 17 titles will be available later this year and will include archive material relevant to each of the stories by the much-loved but controversial children's author.
The classic collection will sit alongside the newly-released Dahl books for young readers, which have been rewritten to "cater for the sensitivities of modern audiences".
However Puffin sparked outrage after announcing Dahl's books would be edited to remove or rewrite language deemed offensive.
Content including references to weight, mental health, violence, gender and race were amended – in a move branded "absurd censorship" by author Sir Salman Rushdie.
Prime Minister Rishi Sunak condemned the editing of Dahl's books, quoting the Big Friendly Giant's warning not to "gobblefunk" with words.
The Queen Consort urged authors to be "true to their calling" days after the row over the Charlie and the Chocolate Factory's author's books erupted.
In her first public appearance since recovering from COVID-19 on Thursday, Camilla launched her book project, previously known as The Reading Room, as charity re-named The Queen's Reading Room.
She told guests including children's author Dame Jacqueline Wilson and Booker prize winner, Ben Okri: "Thank you, on behalf of book-lovers and book clubs everywhere, for sharing your talents with us and for everything you do to promote literacy and a love of literature.
"Please keep doing so and please remain true to your calling, unimpeded by those who may wish to curb the freedom of your expression or impose limits on your imagination.
"But let there be no squeaking like mice about your achievements, but only roaring like a pride of lions."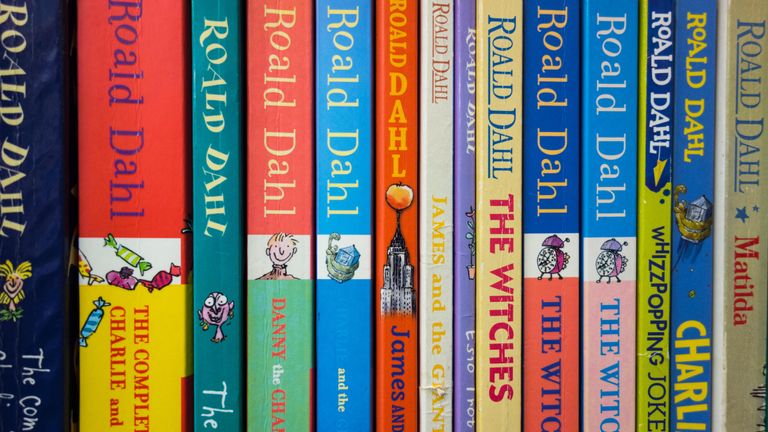 'We have listened to the debate'
Managing director of Penguin Random House Children's, Francesca Dow, said: "We've listened to the debate over the past week which has reaffirmed the extraordinary power of Roald Dahl's books and the very real questions around how stories from another era can be kept relevant for each new generation.
"As a children's publisher, our role is to share the magic of stories with children with the greatest thought and care.
"Roald Dahl's fantastic books are often the first stories young children will read independently, and taking care for the imaginations and fast-developing minds of young readers is both a privilege and a responsibility.
"We also recognise the importance of keeping Dahl's classic texts in print.
"By making both Puffin and Penguin versions available, we are offering readers the choice to decide how they experience Roald Dahl's magical, marvellous stories.
"Roald Dahl once said: 'If my books can help children become readers, then I feel I have accomplished something important'.
"At Puffin, we'll keep pursuing that ambition for as long as we make books."
Click to subscribe to the Sky News Daily wherever you get your podcasts