The first 100 days of Rishi Sunak's premiership are done – a yardstick that his predecessor Liz Truss never even reached, while Boris Johnson found himself utterly consumed with firefighting a pandemic.
Mr Sunak can take some comfort in the fact he's made it this far without a full-blown leadership crisis or an external global event that has blown his plan for government wildly off course.
But it would be hard too for the prime minister, in good faith, to say his first 100 days have been a success.
Politics live: What the polls tell us about Sunak's performance
These early months in office take on a symbolic significance for political leaders because they act as a benchmark for early successes (or failures).
It is also often a honeymoon period in which a leader enjoys high approval ratings, typically having won an election.
But for Mr Sunak it has been neither of those. There is little warm glow around his leadership, while his approval ratings have gone the wrong way in his first 100 days.
You can see why, writing in The Sun newspaper to mark his 100-day anniversary, the prime minister asked voters not to judge him on his first days in office, but on how he does in the remaining days until a general election (I reckon that puts him on another 500 or 600 days in office, given current Westminster thinking that he'll call an election in the autumn of 2024).
Because – and even his allies would concede – it has been a bumpy start for the PM and is likely, says one senior minister, to be bumpy for some months yet.
'Narrow path' to victory
On the positives, Mr Sunak's allies argue that he has managed to stabilise the economy and slow the rise in interest rates, helping slow the increase in mortgages and government debt repayments.
"What we have managed to do is stabilise the economy and get that back on track," said one ministerial ally. "Now we have to have laser focus on delivering on those five priorities."
Halving inflation, reducing government debt, growing the economy, cutting waiting lists and stopping small boats – this is the Sunak pledge card going into 2024.
And if he can land it all, his supporters see a "very narrow path" to victory in the next general election.
But look at the first 100 days and the scales are very much weighted to things going wrong, rather than things going right.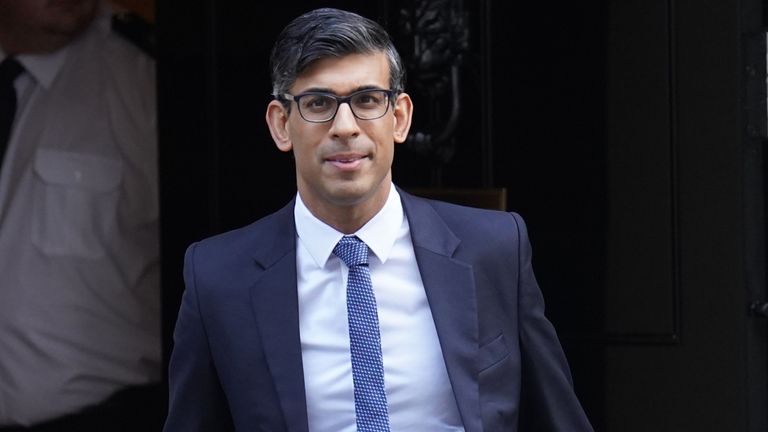 This is a prime minister who hasn't been able to resolve the worst strikes in Britain since the 1980s. Kids off schools, nurses and ambulance crews on picket lines, trains that aren't running, the military deployed to police our borders.
Then there is the very real crisis in the NHS, with record ambulance delays and A&E wait times testing the patience of an increasingly weary public.
All of it is ammunition for the opposition to scream that Britain is broken and it's time for a change of government.
There are then the scandals around his cabinet that have seen Mr Sunak forced to defend no fewer than four of his ministers in the 11 prime minister's questions he's fronted so far.
There's Suella Braverman, who broke the ministerial code and resigned from the Truss administration only to be reinstated a few days later by the new PM (amid rumours he did a deal with the right of the party to reinstall her in return for leadership votes); Gavin Williamson, who resigned from cabinet over bullying allegations; Nadhim Zahawi, sacked for his conduct related to a tax dispute while he was a cabinet minister; and he is now taking heat for his deputy Dominic Raab, who is the subject of eight separate bullying complaints.
It is not just deeply uncomfortable for the prime minister but threatening too, with Mr Sunak contaminated by the stain of Tory sleaze.
'Not looking good'
"It's very dangerous," one senior minister and ally remarked to me the other day of the Zahawi and Raab affairs.
"It could be it's gone too far," they added into musings that the reputational damage was too deep to be undone.
The view settling in Westminster is that Mr Raab's position is precarious.
"If you've got three permanent secretaries [top civil servants] all giving evidence, you have to say it is not looking good for Mr Raab."
And it is not good for Mr Sunak either.
First, Mr Raab is in his inner circle and is a key political ally on which he relies, so cutting the tie will be difficult and painful for the prime minister's inner operation.
Second, as I reported this week, the scandal over Mr Raab is getting ever closer to the PM, with claims that Mr Sunak was told about concerns over "unacceptable behaviour" before he put him into cabinet.
Oliver Dowden has told Sky's Sophy Ridge that the prime minister 'wasn't aware of any formal complaints' against Dominic Raab before appointing him to cabinet

There are some who would prefer Mr Raab to fall on his sword rather than prolong the pain for his boss.
But all the signs are that it will be Mr Sunak who will have to make this call once the independent investigation by Adam Tolley KC concludes.
And the frustrations are feeding through to the polls.
At the end of November 2022, 41% of the public thought Mr Sunak was doing badly, versus 31% who thought he was performing well.
Two months later, towards the end of January, 56% thought the prime minister was doing a bad job, against 26% who thought he was doing a good job – according to YouGov.
Election looms
So, this a prime minister still in the job, but the polls are going the wrong way, which means the pressure is only going to build.
Any government will hope that that gap narrows as the election draws closer, and the PM's team is relying on falling inflation and economic recovery to help shift sentiment.
What Tory MPs need, says one Treasury figure, is something positive to sell on the doorsteps and, at the moment, Mr Sunak isn't giving them any of that.
What many MPs want are tax cuts sooner rather than later, but that's not what they're likely to get in the March budget.
For this PM, picking up the pieces of the Truss government's economic debacle meant the first 100 days of his premiership was always going to be tough.
And Mr Sunak is certainly playing this as long as he can – one Treasury source told me an autumn 2024 election is most likely because "people will not feel any better off" by the spring of that year.
At least he can take comfort that he's survived, but the big unknown – and for many, the real doubt – is whether he can thrive.