The UK is to launch an Online Fraud Charter with 11 major tech companies in a "world-first" initiative to combat scams, fake adverts and romance fraud.
Home Secretary James Cleverly will host representatives from several leading tech companies – including Facebook, TikTok, Snapchat and YouTube – to sign the pledge to tackle internet fraud on Thursday.
Other firms signing the voluntary agreement include Amazon, eBay, Google, Instagram, LinkedIn, Match Group and Microsoft.
The charter will call on the firms to introduce a number of measures to better protect users, including verifying new advertisers and promptly removing fraudulent content.
Politics – latest: Sunak accused of 'insane' claim which 'shows he's run out of road'
There will also be increased levels of verification on peer-to-peer marketplaces and people using online dating services.
The companies will pledge to implement the measures which apply to their services within six months.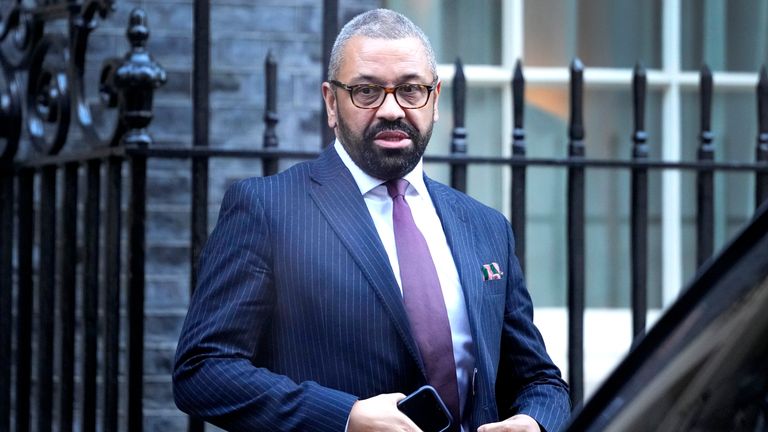 It will be backed by a crackdown on illegal adverts and promotions for age-restricted products such as alcohol or gambling which target children.
These steps will be detailed in an action plan published by the Online Advertising Taskforce.
Mr Cleverly, who will announce the charter at Lancaster House, said: "The Online Fraud Charter is a big step forward in our efforts to protect the public from sophisticated, adaptable and highly organised criminals.
"An agreement of this kind has never been done on this scale before and I am exceptionally pleased to see tech firms working with us to turn the tide against fraudsters.
"Our work does not end here – I will continue to ensure we collaborate across government, and with law enforcement and the private sector, to ensure everyone in the UK is better protected from fraud."
Read more:
We asked a chatbot to help write an article
Amazon to launch AI business chatbot named Q
Each of the tech firms will pledge to work closely with law enforcement including creating direct routes to report suspicious activity.
The government highlighted that fraud accounts for about 40% of all crime in England and Wales, with data from UK Finance showing that almost 80% of authorised pushed payment fraud originating from social media or fake websites.
The news comes as cyber security experts warn that the rise of generative AI tools such as ChatGPT is helping cybercriminals create more convincing and sophisticated scams.
As ChatGPT marks the first anniversary of its launch to the public, a number of experts have said the technology is being leveraged by bad actors online.
PM hails 'landmark' AI agreement

They warn that generative AI tools for text and image creation are making it easier for criminals to create convincing scams, but also that AI is being used to help boost cyber defences.
At the UK's AI Safety Summit earlier this month, the threat of more sophisticated cyber attacks powered by AI was highlighted as a key risk going forward, with world leaders agreeing to work together on the issue.
The UK's National Cyber Security Centre (NCSC) has also highlighted the use of AI to create and spread disinformation as a key threat in years to come, especially around elections.