A miniature dachshund snatched from her Essex home by a masked, hammer-wielding intruder has been reunited with her owners after a public outcry led to a tip-off.
Twiglet is described as being "a little subdued" after her ordeal, which saw her stolen during a burglary in Saffron Walden at about 3pm on Wednesday.
The 16-month-old dog's owners believe she became "too hot to handle" after a police appeal for her return went viral, with people desperately concerned about her welfare.
Twiglet put up a brave fight when he was stolen during a home robbery

In CCTV footage released by the Essex force, a man, wearing a black cap and a black mask, is seen entering the property's kitchen.
A burglar alarm sounds and Twiglet starts panicking and barking.
Initially, she manages to escape his clutches but he eventually grabs her and they struggle for a few seconds before the man clamps her jaw shut to stop her barking, before making off with her.
But in a welcome update on Facebook, her owners said she had been found.
Read more:
Police officer sacked after dog attack on unarmed truck driver
Dog abandoned in cage on side of road with 'heartbreaking' note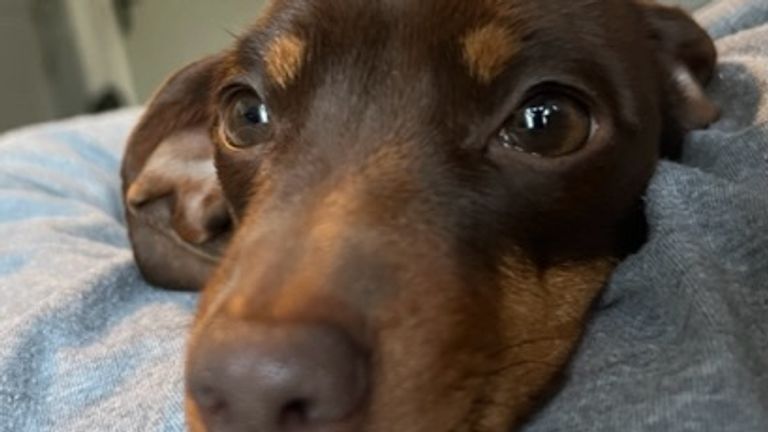 Jamie Vindis posted: "Everyone… we have the most amazing news… Twig is home!!!
"She's a little subdued by the whole experience but a tip off this evening (via FB) from someone that had seen all of the publicity and awareness, has meant we were able to be reunited about 11pm.
"We can't thank everyone enough for all of the posts and reposts and noise that has meant that she most likely did become 'too hot to handle'.
"We are blown away by how amazing people have been and want to thank you all so so much."