Canadian police are looking into the deaths of five people killed in the implosion of the Titan submersible.
Superintendent Kent Osmond, of the Royal Canadian Mounted Police, confirmed on Saturday it was looking into the circumstances of the doomed voyage.
He said a team of investigators had been established with the "sole purpose" of determining whether a criminal investigation would be warranted.
Interviews took place with people on board Titan's main support ship, the Polar Prince, on Saturday as part of the force's investigations, the officer added.
After the US Coastguard confirmed all five people onboard were presumed dead, Supt Osmond said "we will now look at the circumstances that led to those deaths".
Asked whether the force had any suspicion of criminal activity, Supt Osmond replied: "There is no suspicion of criminal activity per se, but the RCMP is taking initial steps to assess whether or not we will go down that road."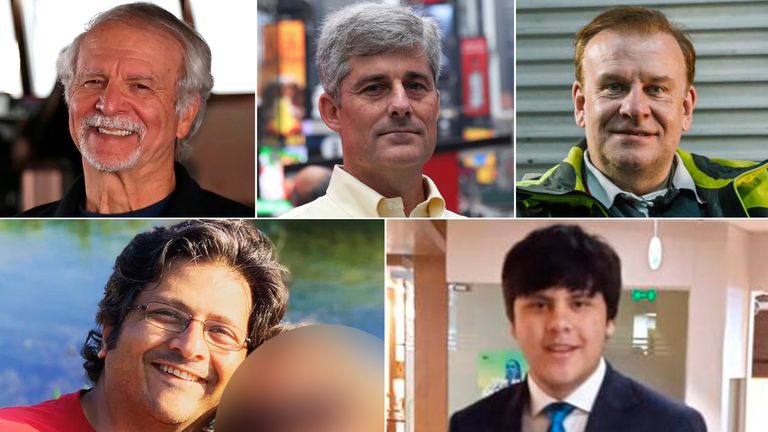 Parts from the sub were discovered on the sea floor on Thursday, only about 400m from the wreck of the Titanic.
The US Coast Guard said the vessel had suffered a catastrophic implosion, which would have killed all those on board.
Canadian police appear to be leading the criminal investigation because the ship towing the sub left from Newfoundland and was a Canadian-flagged vessel.
Teen on Titan 'had a sense this was not okay'

It has emerged that a number of engineering and deep sea experts, including a former employee, had raised serious concerns over the sub's safety with the company's boss.
However, Stockton Rush – who died in the incident – is said to have dismissed the concerns.
Many of them focussed on the novel carbon fibre design used for the hull and the fact the submersible had not been certified by outside agencies.
Read more:
What happened to the Titan
Billionaire was offered last minute-price tickets for doomed voyage
Five men onboard described as 'true explorers' – here are their stories
TV and filmmakers – including Ross Kemp – have since revealed they declined the chance to travel in the sub due to fears over its capability.
British adventurer Hamish Harding and father and son Shahzada and Suleman Dawood were killed on board Titan, alongside Mr Rush – the chief executive of the company responsible for the vessel – and French national Paul-Henri Nargeolet.
The Titan sub lost contact less than two hours after its descent last Sunday.
Latest tributes to the victims were paid today by the sons of billionaire private jet dealer Hamish Harding.
One of them described him as the "best father I could have ever asked for [who] inspired me more than anyone will ever know".
As well as the police probe, Canadian safety officials have announced their own investigation.
The Transportation Safety Board said on Friday that it had sent a team to St John's in Newfoundland to gather information and interview people.