A vulnerable teenage girl died after becoming morbidly obese and forced to live in conditions "unfit for any animal", a court has been told.
Kaylea Titford, 16, was living in "squalor and degradation" when she was found dead by paramedics at her home in Powys, Wales, in October 2020, jurors heard.
Prosecutors say her parents "seriously neglected" their daughter, who weighed almost 23st and had a body mass index of 70.
They ordered takeaways five times a week, including Chinese and Indian food and kebabs.
Her mother, Sarah Lloyd-Jones, 39, has admitted manslaughter by gross negligence.
But her father, Alun Titford, 45, denies the same offence and is standing trial at Mold Crown Court.
Kaylea used a wheelchair from a young age due to health conditions including spina bifida, a spinal defect, and hydrocephalus, which causes a build up of fluid on the brain.
She was described as "funny and chatty" by staff at her secondary school in Newtown.
But she was confined to her home after the COVID-19 lockdown began in March 2020.
Vulnerable girl depended entirely on others for her care
Six months later on 10 October, Lloyd-Jones called the emergency services who arrived to find Kaylea lying on filthy "puppy pads".
She had dirty and matted hair and ulcerated skin and had not been properly washed for weeks.
Milk bottles filled with urine were found where she slept, with police describing an "unbearable" rotting smell and maggots and flies on her body.
Ms Rees said: "Kaylea Titford was living in conditions unfit for any animal, let alone a vulnerable 16-year-old girl who depended entirely on others for her care.
"The prosecution say that the scene – as witnessed by those that attended – together with the state in which Kaylea's body was found demonstrate clearly that this vulnerable girl, who relied heavily on others for her welfare needs, was seriously neglected by not just one but both of her parents, who owed her a duty of care."
Pathologist Dr Deryk James ruled the teenager died due to "inflammation and infection" arising from being obese and immobile, jurors heard.
Simple tasks such as changing Kaylea's socks regularly appeared to have been ignored, according to forensic podiatry specialist, David Blake.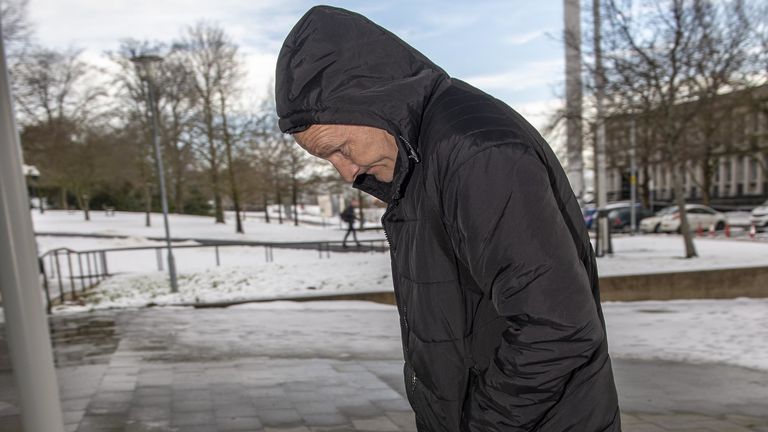 During his police interview, Titford said he was "not a very good dad" and claimed Lloyd-Jones cared for their daughter and did the housework.
He said Kaylea had outgrown her wheelchair – but added he had not seen her out of bed since the lockdown.
When questioned about when he last asked Kaylea how she was, Titford replied: "I didn't ask her. Like I say, I'm not the best of people.
"Nobody ever thinks their child is going to end up like that."
Titford also denies an alternative charge of causing or allowing the death of a child.
The trial, expected to last four weeks, continues on Thursday.