When it comes to the topic of artificial intelligence, Sir Tony Blair is clear on the technology's potential to change the way we live.
"I think it is on a par with the 19th-century Industrial Revolution," he says.
"I think it [technology] already was, but generative AI has given it a further push forward."
The former prime minister's eponymous institute is writing papers on AI, while he has given talks and penned newspaper opinion pieces on the technology.
Sir Tony wants us to understand the risk as well as the reward.
"It is a technology that is, simultaneously, very good but potentially very bad," he tells me.
"The advantages are massive. It can transform the way we live and work, it can do enormous things in healthcare and education; in the way government configures itself.
"It is going to change business work – it should increase productivity dramatically.
"On the other hand, you can get disinformation deepfakes, people using it for example to create bio-terror weapons.
"How does government need to approach it? It needs to understand it, master it and harness it. Access the opportunities, mitigate the risks."
The question that prompts that answer was written by the AI chatbot, ChatGPT.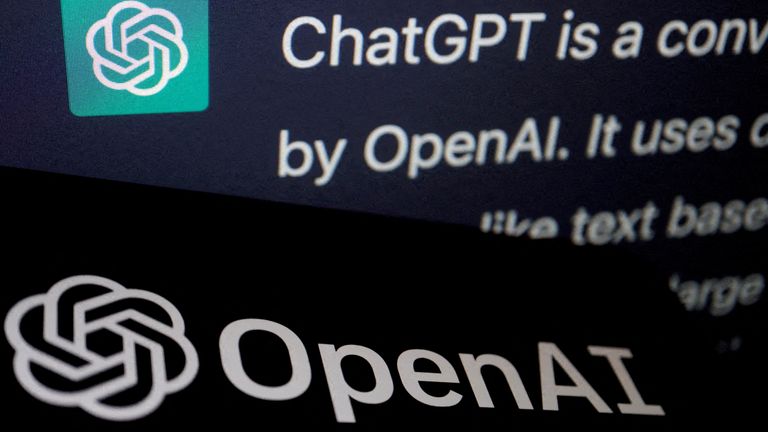 It asks Sir Tony for his views on the potential benefits and risks of AI, and how governments and societies should deal with such a rapidly advancing technology.
"Well, that's a pretty obvious question," he replies.
Nevertheless, he answers.
I ask him to describe the moment we find ourselves in.
"This is akin to the industrial revolution," he says. "Just as that moment changed humanity, changed the state, this moment and generative AI will do that too."
And are we ready for it? Here, he is more careful in his response.
When asked if politicians in the UK have been naïve, he says no, but says there has been ignorance of the power and use of the technology.
"Part of the problem is you've got the changemakers in one room and the policymakers in the other," he says.
The US, China, and the private sector have stolen a march – and Sir Tony says countries such as Singapore are catching up with the UK too.
Read more:
Artificial intelligence 'doesn't have capability to take over'
ChatGPT gets major knowledge upgrade
Martin Lewis warns against 'frightening' AI-generated scam video
Could AI replace news organisations?

"China is a leader in the AI field. The 21st century is going to be shaped by the competition between the two [China and US]."
But Sir Tony says the competing superpowers will have to find a way to work together – particularly on climate change and global health.
"Is it possible to do that in technology? I don't know."
And what about the UK, can it still be a leader?
"We are strong at life science, we are strong in climate, we are strong in AI itself," he tells me.
"We need to keep our universities strong, we need to invest heavily in the infrastructure, build our computing capacity.
"There is a lot to do, and it has to be driven from the top."
One positive, Sir Tony says, is the UK's hosting of a major AI conference this autumn.
"One of the reasons I think it is a good idea is to explore all the different possibilities in regulation and try to get the leading countries together," he says.
"At the very least, Europe and America should be trying to work together on this."
Could AI have done Sir Tony Blair's job?

As a final question, I asked if AI could have done his job as prime minister.
"No. It couldn't have," he says with a smile.
But there are parts of his job where AI would have been an aide, he says.
Click to subscribe to the Sky News Daily wherever you get your podcasts
"It could make decision-making much more efficient. It could replace some of the processes in government.
"Already around the world, for example, you have people using AI to do planning, you have one country in Europe now using it to do small claims, rather than going through an expensive court process.
"In the end, it is maybe best to look at it as an aide to the people making a decision.
"But in the end you have to keep the decision-making capability for the human, but it will be much better informed by the technology."
As he leaves, Sir Tony tells me about how his kids have asked AI to make a rap song using the text of one of his speeches.
Was it any good? He doesn't say…