Work has started as part of a "complex and difficult" operation to remove the Sycamore Gap tree from Hadrian's Wall after it was felled in an act of vandalism.
The National Trust said workers were using chainsaws to remove branches ahead of the removal of the historic attraction, which is expected to take place on Thursday.
A crane will be used to lift the 50ft tree off the delicate Roman wall, before it is taken away from the area and put into safe storage at a trust site.
People are being urged to stay away from the area while the operation is taking place.
Andrew Poad, the site's general manager for the National Trust, said it needed to be moved now to make the site safe for visitors and to preserve Hadrian's Wall. Historic England previously said it had sustained damage when the tree fell on it.
"We've explored every option for moving the tree and while it isn't possible to lift it in one go, as the tree is multi-stemmed with a large crown, we have aimed to keep the trunk in as large sections as possible, to give us flexibility on what the tree becomes in future," he said.
"We're encouraging people to stay away from the site while these complex and difficult operations take place."
The stump, which could generate new shoots, will be kept in place and is currently behind a protective barrier.
Seeds have been collected – which the National Trust said could be used to grow new saplings.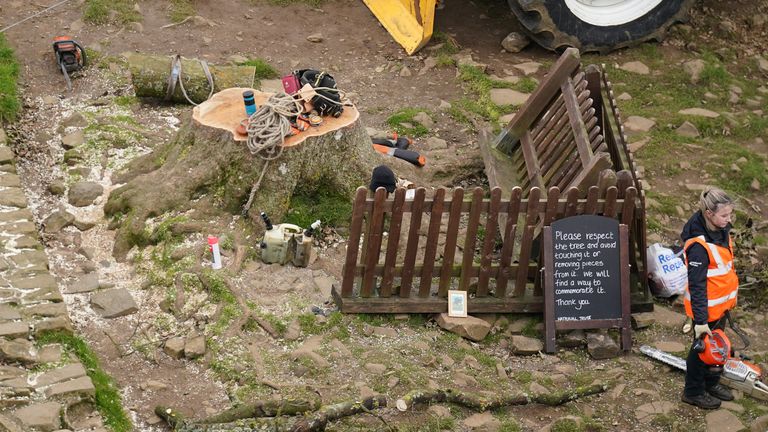 Read more on Sky News:
'Climate crisis will change taste of beer'
'Humanity could lose half of future medicines'
The much-photographed and painted lone sycamore, one of the most famous trees in the world and an emblem for the North East of England, was based in a dip in the Northumberland landscape.
There will be public consultation about what happens next at the site, which has UNESCO designation and is a Scheduled Ancient Monument.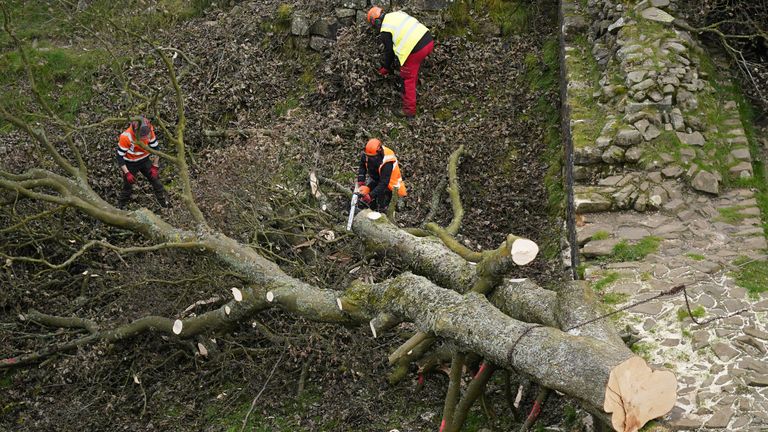 Northumbria Police arrested a boy aged 16 and a man in his 60s after the tree was felled a fortnight ago. They have been released on bail pending further inquiries.