The government agency responsible for our main roads, National Highways, has admitted that over half a million trees have died beside a single 21-mile stretch of new carriageway.
They estimate the cost of replanting at £2.9m.
Many tree experts say this is symptomatic of a focus on tree planting over tree care. Only growing trees capture carbon or improve habitat.
The upgrade of the A14 between Cambridge and Huntingdon, cost £1.5bn and was opened in 2020.
A number of mature trees were destroyed during construction and planting new ones was part of the development consent order, the permission to build.
National Highways planted 850,000 saplings but three years later, Sky News has seen an internal review that points to 'an unusually high fatality rate' and reveals that three-quarters of them have died.
National Highways point to poor soil and extreme heat as the main causes.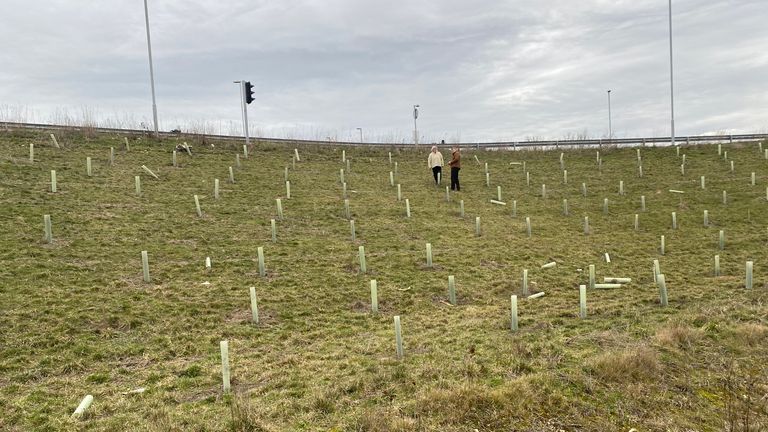 But these "die-off" figures were compiled before last summer's record temperatures and it is likely more saplings will have perished in that heatwave.
National Highways, declined to do an interview with Sky News but subsequently did publish a press release admitting "an unusually high failure rate among the planted trees" and added: "Replanting is expected to begin in October with the first batch of 162,000 trees already on order from a local nursery.
"All replanting work will be subject to a five-year establishment period."
They also told us the cost of replanting will be around £2.9m. That's taxpayers' money.
Their internal document suggests the replanting plan will use more mulch to hold water, better tree guards, improved topsoil, and reviewing both the type of tree planted and the sapling's age.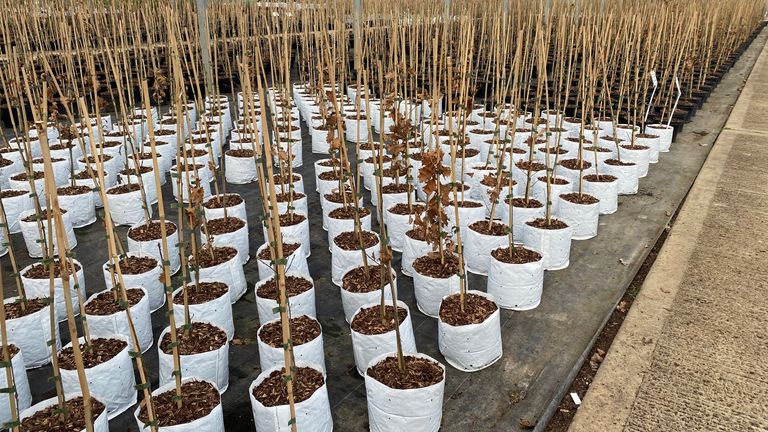 Sky News visited one of the embankments studded with stakes and tree protection tubes.
Some had survived but the huge majority held just grass or a dead twig.
Local councillor Edna Murphy has campaigned for National Highways to come clean on the losses and put it right.
"The scale of it really hits you if you go up and down the A14, hundreds of thousands of trees, saplings planted and have just been left to die.
"It was actually the devil's own job to get information out of National Highways. I tried the Freedom of Information (FOI) Act, I tried asking nicely. Nothing worked."
So she is very pleased that they are now committed to replanting.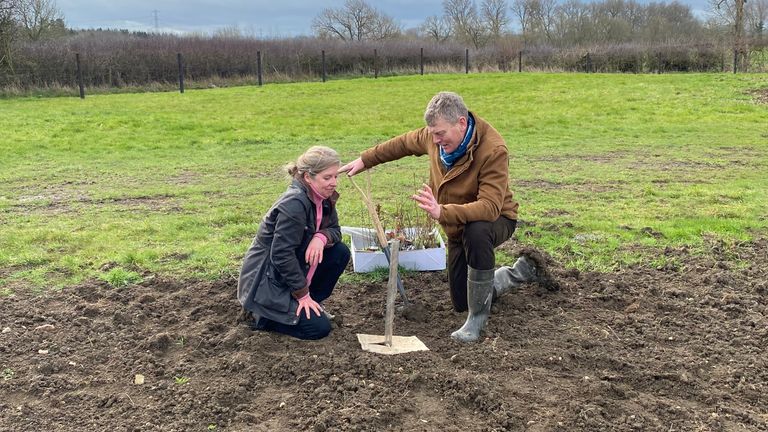 She said: "They're just trying really hard now, to get some trees established, which can only be good. But we have to see if they actually do it."
Listen to more from ClimateCast:
Hydrogen in homes: The village of 'guinea pigs'
Who's paying for Britain's poo problem?
Tree experts we've spoken to say the low survival rate of new trees is a national problem and it stems from an obsession with planting numbers, not least at the last election when party leaders and manifestos competed over how many trees they would plant.
Sir William Worsley, is chair of the Forestry Commission and briefly enjoyed the title of the government's tree champion.
I asked him if enough emphasis was being put on tree care, not just planting.
Click to subscribe to ClimateCast with Tom Heap wherever you get your podcasts
"I mean, the answer is no… to be blunt, I would like to see much more money put into management as well as planting."
And he acknowledged how crucial tree growth is to our climate goals.
"Very, very important. If we don't get survival, it's nothing. If we get surviving trees, planting trees is the most cost-effective way to manage carbon.
"If you look at all the other forms of land use, that's nothing compared to the benefit of trees. Therefore it's absolutely essential."
Across the country, planting rates are also running at less than half the 30,000 hectares per year that was pledged by the Conservatives at the last election.
So fewer saplings than hoped with troubling survival rates. Bad news for our nature and climate aims.