Surviving scandal has always been a central challenge for BBC bosses.
Tim Davie, the director general at the heart of the Gary Lineker stand-off with the broadcaster, got his first taste of the top job at the corporation as acting director general after the resignation of George Entwistle over the Jimmy Savile row.
In 2004, Greg Dyke resigned from the same job following criticism of the BBC's news reporting process in the Hutton Inquiry.
This latest crisis can be traced back to Mr Davie's pledge to make strengthening impartiality one of his key missions.
Yet what was intended to be a project to protect the organisation's reputation has ended up damaging it with accusations (vehemently denied) that he has given in to Tory pressure.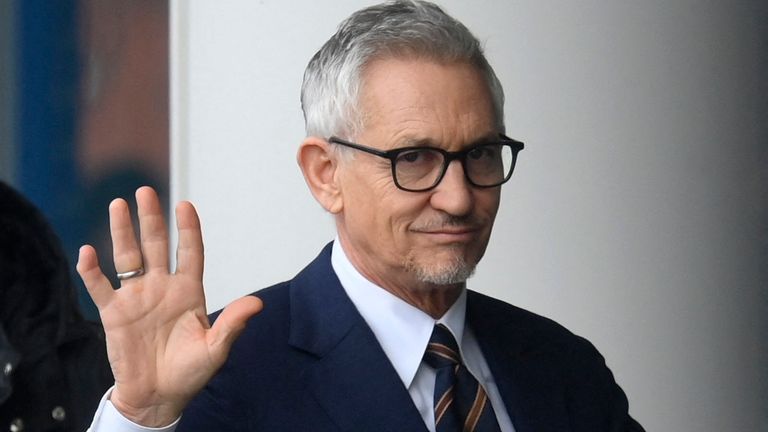 The role of BBC director general has always been a tricky balancing act: leading an organisation which holds those in power to account while being dependent on the government to approve any settlement over its future funding. The corporation's current royal charter expires in 2027.
This is not the first time Lineker's political comments have made headlines and, as the former footballer is the face of the organisation's sports coverage, that clearly concerns Mr Davie.
Commenting on government policy, and comparing the rhetoric around it to 1930s Germany seems to breach the BBC's editorial guidelines. But as a freelance presenter not working in news, should these rules even apply to Gary Lineker?
Read more:
BBC director-general 'sorry' about lost football programmes and 'working very hard' to resolve dispute
The BBC's guidelines on impartiality explained – and do they apply to Gary Lineker?
The BBC's guidelines say some non-journalists "have an additional responsibility to the BBC because of their profile" and should "avoid taking sides on party political issues or political controversies".
Yet critics of the corporation argue the rules weren't applied fairly when Alan Sugar, host of The Apprentice, made comments about Jeremy Corbyn online or political interviewer Andrew Neil tweeted about Brexit.
The Lineker row comes just weeks after the controversy surrounding BBC chairman and Tory donor Richard Sharp, who helped facilitate an £800,000 loan to Boris Johnson. Mr Sharp is currently subject to two investigations and former BBC chair Chris Patten is among those now calling for him to stand down.
Mr Davie has said "success for me is getting Gary back on air". He will be acutely aware that the longer the stand-off lasts, the larger the damage to the reputation of the beleaguered BBC.