As Rishi Sunak prepares to launch his re-election pitch from the stage in Manchester this week, it's worth remembering that this time last year, the now prime minister – and many of his supporters – were put out to pasture and didn't even bother to turn up for the annual Tory jamboree.
Those who did looked on with widening eyes at the accelerating car crash of the Liz Truss premiership, as her mini-budget began to unravel in real time at party conference (remember the panicked decision to U-turn on cutting the top rate tax no sooner than conference kicked off), with her administration's complete collapse coming less than three weeks later.
Truss' time as PM, one year on

It is a chapter of Conservative history that Rishi Sunak has sought to put right – spending his first year as PM trying to steady the ship and bring an air of competence and professionalism to government. There is no doubt that the tenor and tone of what could well be the final party conference before a general election will be a world away from the last.
But when it comes to the fundamentals, has that much changed? If you measure politics in its most brutal sense as victory at the ballot box, the answer is not much. The Conservatives were experiencing their worst polling since the last 1990s this time last year. Look at our Sky News poll tracker now, and you can see average support for the party is pretty much the same – about 26%. It's barely shifted at all.
To make matters worse, Mr Sunak – who will look in his leader's speech to the country to cast himself as the heir of Thatcher – goes to conference as the Conservative prime minister who is presiding over anything but a Thatcherite economy.
The tax burden is on course to rise by more in this Conservative parliament than during any other since the Second World War, according to analysis released by the Institute of Fiscal Studies on the eve of conference. It will rise from 33% of national income to 37% by next year. A record leap that sees families and businesses paying more than £100bn extra in tax by next year compared with the last election, it has left many Tory MPs in despair and angry at the Sunak approach to the economy.
Taxes are rising to near historic highs

The Sunak message will be that, during the pandemic, he had to do things and spend public money in a way that didn't come naturally to him. He will argue he is a Thatcherite in both his personal work ethic and philosophy – an instinctive tax cutter and small-state Conservative, but is doing the hard work now – growing the economy, halving inflation – to reap the rewards later.
But his detractors are quietly fulminating. As one put it to me this week: "This heir to Thatcher business, it's concocted vacuous stuff he's come up with – 'she grew up in a small shop, I [Sunak] grew up in a pharmacy'. Why didn't he do that last year in a leadership campaign?"
Truss 'tried to fatten and slaughter the pig'

And if the message is stick to the plan and reap the rewards, there are some who have missed the memo. Divisions will surface on "economy day" as Liz Truss, Dame Priti Patel and Sir Jacob Rees-Mogg appear at the Great British Growth rally on Monday.
"The tax burden is now a 70-year high. That is unsustainable. And the people that pay the taxes are hard pressed Brits around the country," former home secretary Dame Priti Patel told GB News on Friday as she insisted taxes had to come down. "As Conservatives, we believe in lower taxes. As Conservatives, we believe being on the side of hard-working households and families. As Conservatives, we believe in hope and aspiration."
Poor polling and anxiety over the tax burden make for a tricky backdrop. Team Rishi insist that they can turn it around in the coming months, and the contour of that plan is taking shape.
'Not right to impose costs on people'

On net zero, the PM is trying to drill dividing lines between the Conservatives and Labour over environmental policies. He will use conference to position himself on the side of the motorist as he looks to further mine the advantage he gained in the Uxbridge by-election over taxing polluting diesel cars.
The fanning of the immigration flames – with Home Secretary Suella Braverman threatening to withdraw from the ECHR last week – is helpful to a prime minister who is looking to win back lapsed 2019 Conservative voters and regroup on the right.
His team see a narrow path to victory with all pivots on economic recovery, coupled with the message "we're back on track, don't risk Labour" and winning back voters over core issues – environment, immigration – to narrow the polls (someone told me that 14% of lapsed Conservative 2019 voters have moved to Reform, get a chunk back and the gap begins to close).
'Being gay isn't enough to claim asylum'

"I wouldn't bet against us to turn it around in the coming months," said one No 10 insider. "Rishi genuinely believes he can make it better for the country and get into the best possible position for an election next year. Seeing how politics has changed over the past one, two years, I wouldn't bet against us being able to turn it around. We have got to be the party of change."
But the huge problem for Mr Sunak is that voters seem to have tuned out. He has been in No 10 for a year, and still the polls are unchanged. This conference, likely the last before an election, is his final chance to capture attention and start to regain voters' ears.
But he has a problem too with a party that is in despair. While No 10 were pleased that the net zero announcements didn't spark at backlash from pro-green One Nation Conservatives, the right of the party is restive over economy and waiting for the prime minister to placate them on spending and tax cuts. One figure suggested to me this weekend that Mr Sunak might use the cancellation of the Birmingham to Manchester leg of HS2 as a way of finding room for manoeuvre when it comes to promises on tax.
Labour: 'We want HS2 to go ahead'

Closing the gap with Labour is the goal for now as speculation grows around whether it will be a May or October election. (If it's May you can run it with the local elections and not risk a small boats summer crisis or a vote in the autumn after a local election wipeout – but the PM might just want to hold out.)
But away from the No 10 bunker, and even his most ardent backers think the best Mr Sunak can achieve is holding Labour back from an outright majority.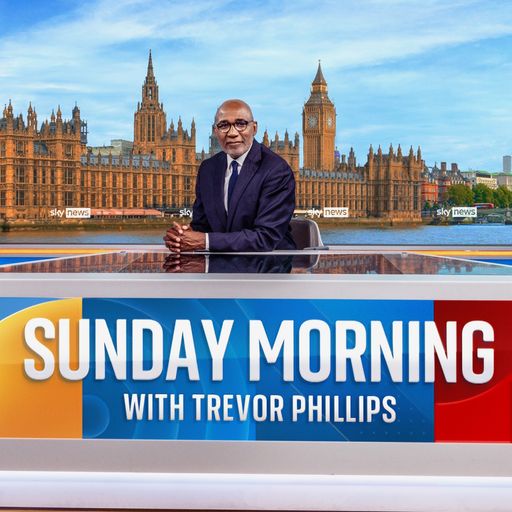 Sunday Morning with Trevor Phillips
Watch live each week Sunday at 8:30am on Sky channel 501, Freeview 233, Virgin 602, the Sky News website and app or YouTube
Tap here for more
As for some of his more seasoned MPs, they are resigned to what they see is their fate: "Instinctively, I don't feel that we can win. This feels like a damage limitation project."
Manchester will be the acid test as to whether Mr Sunak can shift the momentum.