YouTuber KSI will fight boxer Tommy Fury in Manchester later this year.
The 30-year-old internet star, founder of Prime energy drinks, has fought in the ring before – but this will be his first bout since taking a break from the limelight after using a racist slur in an online video.
Fury, the brother of WBC heavyweight champion Tyson Fury, has already fought a YouTube celebrity this year, beating Jake Paul in Saudi Arabia in February.
The Manchester fight will take place at the AO Arena on 14 October.
KSI, real name Olajide Olatunji, has admitted it will be "the toughest fight in the influencer boxing scene".
He has previously fought Jake Paul's brother Logan, another YouTuber, who will fight at the same event against an unannounced opponent set to be revealed in the coming days.
Read more:
KSI falls foul of advertising rules
US regulator asked to investigate Prime drinks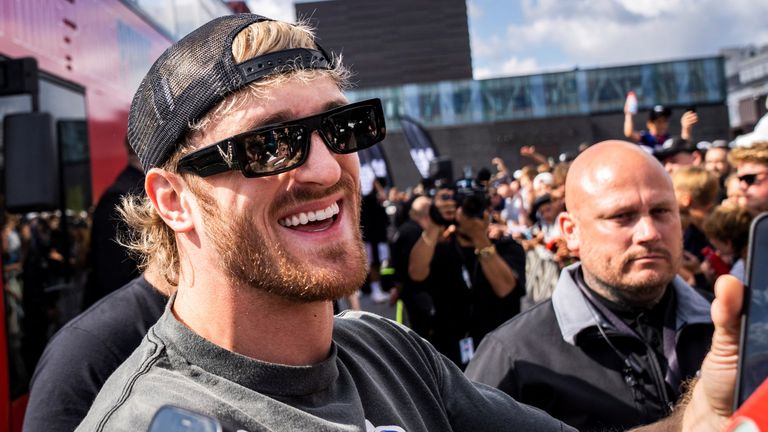 Fury dismisses 'joke' YouTube fighters
Fury has described the upcoming bout as "easy money" and said he will knock KSI out "inside four rounds".
The 24-year-old, who starred in Love Island in 2019, has won all nine of his professional fights – four by knockout.
He told Sky Sports earlier this year that YouTubers-turned-fighters like KSI and the Pauls "are a bit of a joke".
"All these guys are the same to me," he said.
"I'm used to growing up fighting against proper boxers."
February: Scuffles at Fury and Paul weigh-in

Fight won't be professionally sanctioned
KSI, who first rose to fame playing the FIFA video game for an online audience, is a regular on the popular Sidemen YouTube channel, which has nearly 19 million subscribers.
October's fight is being organised by his Misfits Boxing label and will be broadcast by DAZN.
However, the fight has not been sanctioned by the British boxing regulator as a professional match – and KSI lacks a professional licence in the UK.
Only one of his previous fights has been professionally sanctioned, with the others all exhibitions.
His bout with Fury has instead been sanctioned by the Professional Boxing Association, but it won't count towards either fighter's professional record.