The government needs to find £4bn in spare cash to fund NHS pay rises, with some of it coming from "areas of underspend".
The one-off payment offered to frontline workers on Thursday will cost £2.7bn, Downing Street has said, while the 5% pay rise will cost £1.3bn.
A 3.5% pay increase had already been factored into the existing budget before a new deal was put to health unions, leaving ministers scrambling to find the rest.
Asked where the money will come from, the PM's spokesperson said "areas of underspending" had been identified.
They did not go into specifics but added "we will discuss with Treasury and work together to resolve any new funding needs".
Pressed on the source of the funding again, they said the money is "not coming from patient-facing services".
Ministers previously said they can't afford to give striking NHS workers a pay rise because the money would have to be taken out of the existing NHS budget – which was not considered an option at a time of record-high waiting lists.
But there was a major breakthrough on Thursday as the government and unions reached a new deal that could herald the end of industrial action across most of the health service.
The offer consists of a one-off payment of 2% of their salary plus a COVID recovery bonus of 4% for the current financial year 2022/23, and a 5% pay increase for 2023/24.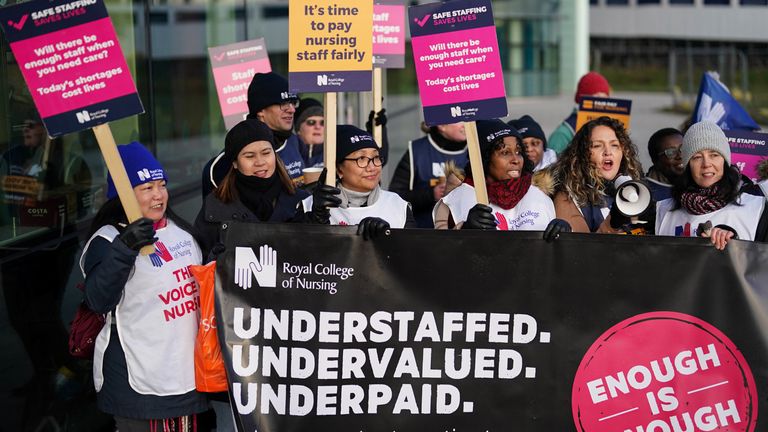 Health Secretary Steve Barclay said it will apply to thousands of key workers including nurses, paramedics and midwives but could not say how the rise would be funded.
When questioned on this he deferred to the Treasury, saying only that it "would not come from areas of the budget that impact on patients".
The prime minister gave a similar answer when pressed during a visit to a south London hospital on whether patient care would be hit, saying: "Absolutely not. We're going to be making sure we protect all frontline services with £14bn of more funding we announced at the end of last year."
Unions have recommended members vote for the pay rise, and have agreed to pause industrial action during that process.
Junior doctors have welcomed pay talks with the Health Secretary and are 'hopeful' the dispute can be resolved to avert further strikes.

Tens of thousands of nurses, paramedics and other healthcare staff went on strike just before Christmas, then again in January and February, leading to the cancellation of around 140,000 appointments and operations.
Labour have criticised the government for delays in getting around the negotiating table, with shadow health secretary Wes Streeting branding his government counterpart "lastminute.com Steve Barclay".
Speaking to Sky News, he accused the health secretary of "having cheek" by deferring questions on how the pay rise will be funded to the Treasury, adding: "Newsflash Steve Barclay, the budget was yesterday.
"If he pulled his finger out before Christmas and negotiated a deal, not only would we have avoided the strike action and the 140,000 cancelled operations and appointments, he might have got a better deal for the NHS."
The breakthrough has sparked hopes of resolving other long-running industrial disputes, with the government and education unions beginning "intensive" talks today on pay and conditions.
Asked whether an offer to teachers could look similar to the NHS deal, the PM's spokesperson stressed that each pay offer is "unique", and the two-pronged agreement is "specific to the work NHS staff have done".
Asked if that recognition will apply to junior doctors, who are embroiled in a separate dispute, the spokesperson said: "We want talks to start as soon as possible but its dependent on them cancelling or pausing strikes. As soon as they pause strike action we can have talks."