Labour has accused the government of displaying an "unforgivable lack of urgency" in tackling the needs of rape victims and implementing crucial recommendations made by two scathing reports.
Analysis by the party shows that several "immediate" recommendations from the Criminal Justice Joint Inspectorates (CJJI) have been left unfulfilled.
The CJJI conducted two comprehensive reports, one in July 2021 and the other in February 2022, focusing on the treatment of rape victims by the police and the Crown Prosecution Service (CPS).
Politics latest: Sadiq Khan says 14 times he's 'listening' on ULEZ
The reports found that the criminal justice system was failing victims of rape and widespread reform is needed to build trust and secure justice.
Labour said that 18 months on from delivery of those reports, "ministers have yet to lift a finger on most of their recommendations".
They pointed to six recommendations where the CJJI called for "immediate action" to be taken.
These include establishing specialist rape offence courts to help with the backlog of cases, and a consultation on creating a commissioner for rape and sexual offences.
Labour said the Conservative government had also failed to publish sufficient data on the use of special measures in rape cases, including the use of pre-recorded video evidence for victims.
The government has championed this as a tool for improving the experience of rape survivors when they are cross-examined, but Labour claims it is being "drastically under-used".
As well as this, the collaborative use of bad character applications in rape cases, often crucial in securing a conviction, and providing victims with the opportunity to make a personal statement had not been acted on.
Shadow attorney general Emily Thornberry said: "At a time when we have a record backlog for rape cases going through our court system, ministers should be doing everything possible to support the victims of those attacks, and help them with the trauma they are facing.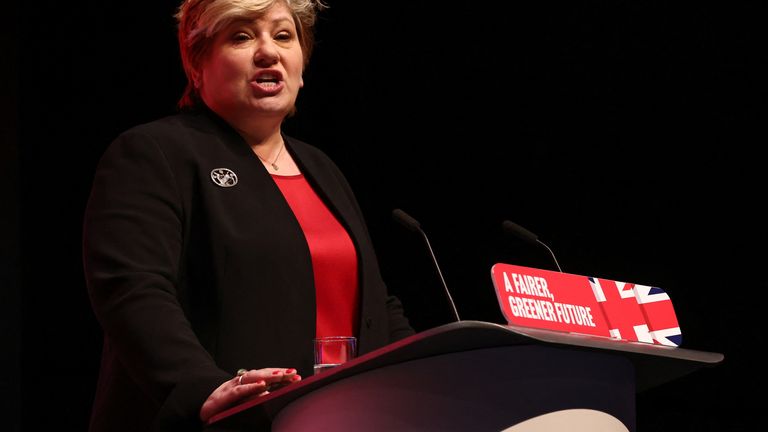 "Instead, their response to the recommendations from the Joint Inspectorate shows an inexplicable lack of focus and an unforgivable lack of urgency.
"The fact is that only a change of government will deliver the action we need."
A report this year found victims of rape and sexual assault are waiting more than two years for their cases to be heard.
Barristers have previously told Sky News that the criminal justice system is "about to crack", with a shortage of barristers, judges and court room hindering efforts to clear the crown courts backlog.
Read More:
Explicit victim-blaming' by police officers investigating rape cases uncovered as govt insists progress is made
The state of the justice system is expected to be a dominant issue at the next general election, with both major parties seeking to sell themselves as the party of law and order.
Ms Thornberry pointed to a Labour pledge to put specialist rape courtrooms in every Crown Court in England and Wales, and to halve violence against women and girls within 10 years of taking office.
Justice Sec: Those who are convicted of rape are getting sentenced to on average 30% longer in prison than in 2010

But Home Office minister Sarah Dines hit back saying that Labour "have voted against every tougher sentence we have brought in".
She claimed that when he was head of the CPS Labour leader Sir Keir Starmer "oversaw a huge drop in the number of sexual offences which were prosecuted and Thornberry criticised his 'backsliding'".
Ms Dines was referencing a critical letter the Labour MP sent in 2012 to then director of public prosecutions Sir Keir and then-attorney general Dominic Grieve amid changes to guidance on specialist barristers and rape prosecutions.
In that letter, she condemned the government's decision to "slash the Crown Prosecution Service's budget by 25% over the course of the parliament", which she said had resulted in victims not getting the necessary legal support.
Ms Dines added: "Conservative governments have increased convictions, increased sentences, reformed our justice system and quadrupled funding to better support victims – making sure that the full force of the law is brought to bear to protect women and girls."