London mayor Sadiq Khan has stood by his decision to expand the Ultra Low Emission Zone (ULEZ) to the capital's outer boroughs, despite it being touted as the reason Labour lost the Uxbridge and South Ruislip by-election.
Speaking to reporters, the Labour mayor said he was "disappointed" the party didn't win the seat overnight.
But he insisted the ULEZ expansion, due to come in next month, was "the right one", adding: "It was a difficult decision to take. But just like nobody will accept drinking dirty water, why accept dirty air?".
Politics live: Next election 'not a done deal' – Sunak
Many had predicted Labour would overturn the 7,000 majority in Boris Johnson's old seat in west London after the former prime minister's shock exit as an MP last month.
But throughout the campaign, it became clear the London mayor's plan to expand ULEZ had angered people on the doorstep.
The Tories clung on to the seat with a majority just shy of 500 votes – which was albeit still a 6.7% swing towards Labour – and Rishi Sunak told reporters: "When there's an actual choice on a matter of substance at stake, people vote Conservative."
But Labour's deputy leader Angela Rayner told Sky News the constituency was "not a Labour seat" and did not even turn red during the party's landslide victory in 1997.
The prime minister reacts to losing two by-elections

ULEZ was first proposed by Mr Johnson during his stint as London mayor as a way to cut air pollution in the capital.
When he announced it in 2015, he said it was "an essential measure to help improve air quality in our city, protect the health of Londoners, and lengthen our lead as the greatest city on earth".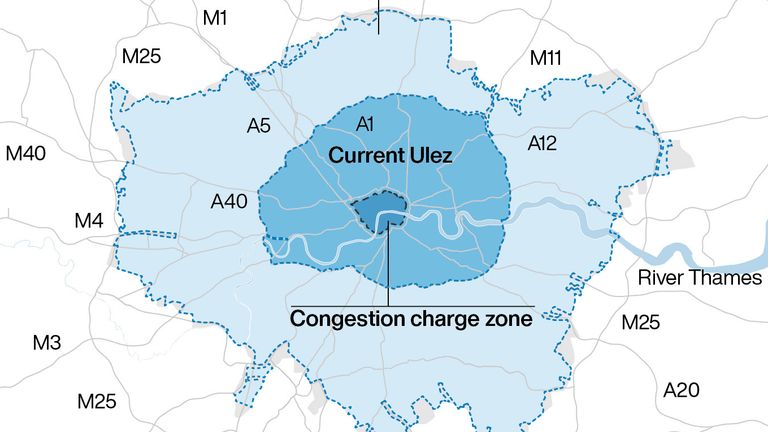 The policy in its current form – which sees drivers having to pay a £12.50 daily fee to drive in the zone if their car does not meet emissions standards – currently covers central London and the areas up to, but not including, the North and South Circular Roads.
But Mr Khan plans to expand the zone up to the capital's borders with Buckinghamshire, Essex, Hertfordshire, Kent and Surrey from the end of August.