Police have been criticised after reports that volunteers helping to keep women safe were arrested in the early hours of coronation day.
The Metropolitan Police said that at around 2am on Saturday three people were arrested in the Soho area of central London on suspicion of conspiracy to commit public nuisance.
Among the items seized were a number of rape alarms, with the Met saying it had "received intelligence that indicated groups and individuals seeking to disrupt today's coronation proceedings were planning to use rape alarms to disrupt the procession".
They added: "There was particular concern from military colleagues that this would scare their horses involved in the procession and, as a result, cause significant risk to the safety of the public and the riders."
Earlier, the Met had tweeted that the intelligence had "indicated that people were planning to throw rape alarms" to disrupt the procession.
But the three people arrested were reportedly volunteers with the Night Stars programme, which is run by Westminster City Council.
The rape alarms are handed out by the volunteers as part of their efforts to "promote women's safety and reduce violence against women and girls", according to the council's website.
Councillor Aicha Less, cabinet member for communities and public protection at Westminster City Council, said: "We are deeply concerned by reports of our Night Stars volunteers being arrested overnight.
"This service has been a familiar and welcome sight in the West End for a long time and have extensive training so they can assist the most vulnerable on the streets late at night.
"We are working with the Metropolitan Police to establish exactly what happened, and in the meantime, we are in touch with our volunteers to ensure they are receiving the support they need."
Council leader Adam Hug added: "We are urgently pushing the police for proper answers.
"Our Night Stars do amazing work helping vulnerable people on the streets at night."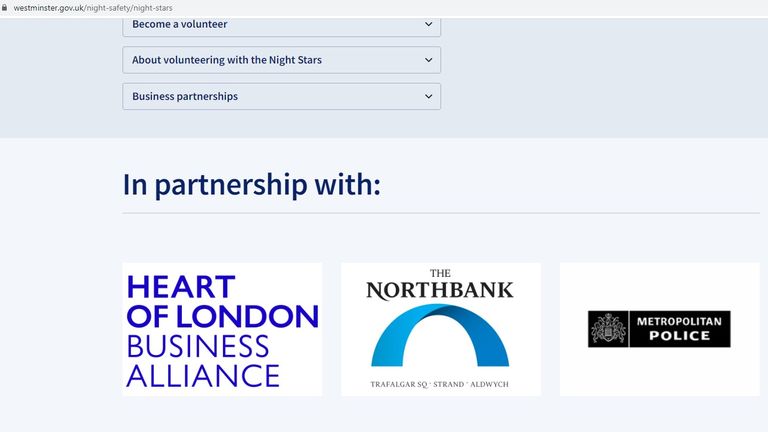 'One of them came out of the station in tears'
The three people arrested – a 37-year-old woman, a 59-year-old woman, and a 47-year-old man – were questioned at a south London police station.
The man was also arrested on suspicion of handling stolen goods, police said, with all three since being released on bail pending further enquiries.
Deputy Assistant Commissioner Ade Adelekan said: "The intelligence we received led us to be extremely worried about the potential risk to public safety.
"We are aware of and understand there is public concern over these arrests. However, the matter is still under investigation."
Read more:
King and Queen join family on balcony for flypast
Prince Harry and Andrew sit in same row at coronation ceremony
The coronation in pictures
Mic Wright, a journalist who spoke with the three arrested people, wrote on Twitter: "The Met arrested members of the City of Westminster's Night Safety team.
"They are volunteers.
"They were pulled last night at 2am and have been held for 14 hours.
"One of them came out of the station in tears. Police didn't apologise."
Jamie Klinger, co-founder of Reclaim These Streets, tweeted: "The police have done nothing to make women safer and now are arresting their own volunteers working to keep women safe.
"Yet another black eye for (Met Police commissioner) Mark Rowley."
'The monarch is there to defend our freedoms – now our freedoms are under attack in his name'
Anti-monarchy group Republic also said six of its members, including its chief executive Graham Smith, were arrested early on Saturday.
Mr Smith was held for almost 16 hours, tweeting after his release at about 11.30pm: "Make no mistake: there is no longer a right to peaceful protest in the UK.
"I have been told many times the monarch is there to defend our freedoms.
"Now our freedoms are under attack in his name."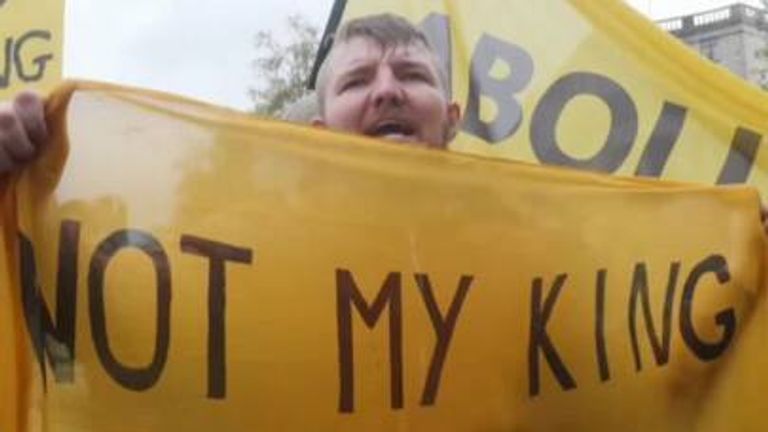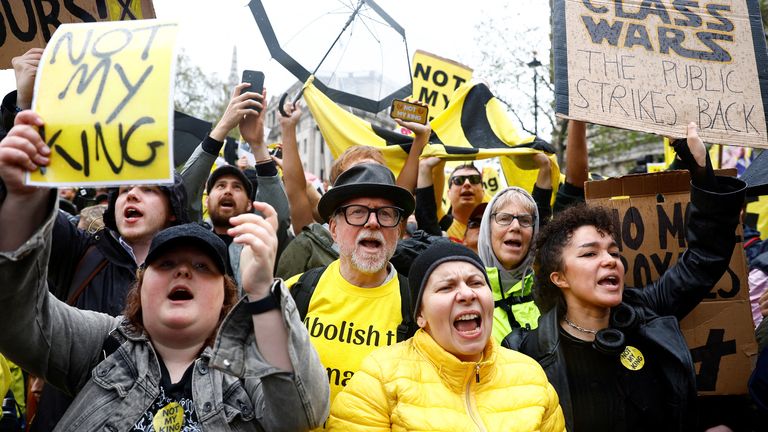 More than 50 arrests on coronation day
The arrests were among more than 50 on the day of the King's coronation, with affray, public order breaches, and conspiracy to cause public nuisance among the alleged offences.
Met Commander Karen Findlay said: "Our first priority has been to ensure that the tens of thousands who travelled into London today, and millions more around the world, were able to enjoy a safe, secure and dignified coronation.
"We understand public concern following arrests made this morning. We police proportionately and in the context of the event. This is a once in a generation moment and that has been a key consideration."