Sadiq Khan has accused the government of "weaponising air pollution" ahead of the expansion of London's ultra-low emission zone next week.
The mayor said he was "disappointed" at the lack of government support for the policy and its accompanying scrappage scheme.
Transport Secretary Mark Harper has urged Labour leader Sir Keir Starmer to make his position on ULEZ "clear", saying in a letter: "You have the power to stop it."
Read more: Where the expanded Greater London ULEZ zone will cover
Mr Harper suggested "Labour plan to use air pollution to attempt to justify bringing in pay per mile charging for every car in London".
This has been denied by City Hall and called "complete nonsense".
Mr Khan said: "It was this government that gave financial support to cities like Bristol, Birmingham and Portsmouth towards their clean air zones. If clean air is right for them then why isn't clean air right for London?
"Why has the government given no support to London? I am disappointed at the lack of support from the government.
"I am disappointed that they seem to be weaponising air pollution and climate change."
The ULEZ expansion is set to take place on Tuesday, and will take the zone up to London's borders with Buckinghamshire, Essex, Hertfordshire, Kent and Surrey.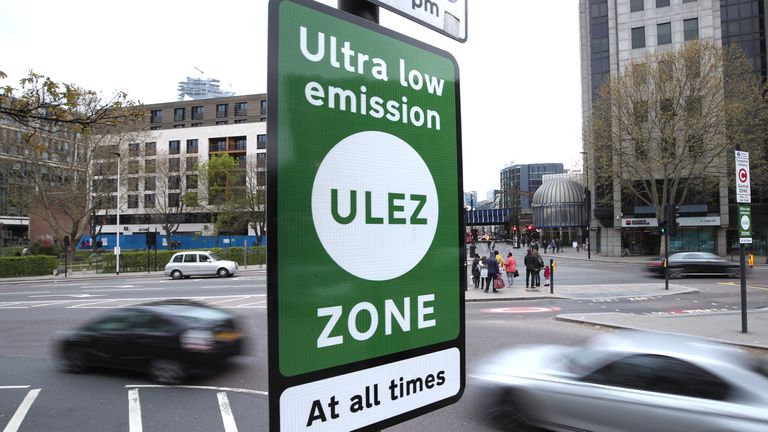 Those who drive in the newly expanded zone in a vehicle that does not meet minimum emissions standards will need to pay £12.50 a day fee or risk a £180 fine, reduced to £90 if paid within 14 days.
A £160m scheme run by Transport for London has offered grants of up to £2,000 to all Londoners who wish to scrap any car or motorcycle that is non-compliant with the zone's emissions standards.
Read more:
Nadine Dorries sends resignation letter to Rishi Sunak
Whole-life sentences will become 'default' for sexually motivated or sadistic murders
In response to Mr Khan, the government stressed that transport and air quality decisions are "devolved to London".
A spokesperson added: "The government has provided TfL £6bn since 2020 to keep public transport moving and almost £102m for projects specifically targeted to help tackle air pollution."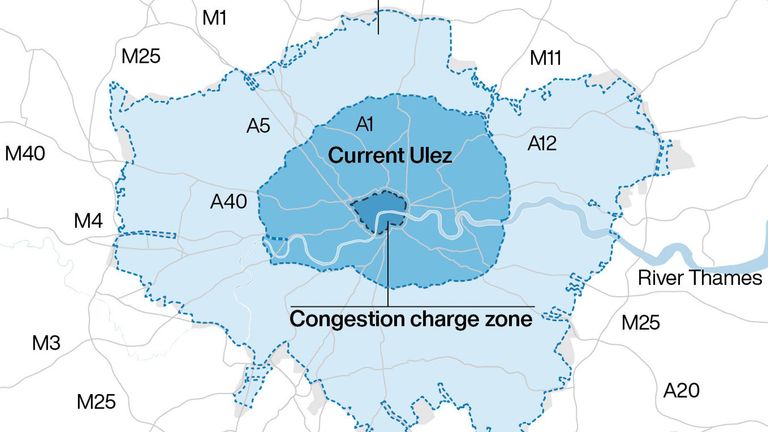 The expansion of ULEZ has been a controversial topic for months, with Labour blaming the scheme for its loss at the Uxbridge by-election in July.
'I invite you to make your position clear'
This was mentioned by the transport secretary in his letter to Sir Keir. He said: "Your position on ULEZ has changed frequently. In January, you said the mayor was 'right' to extend ULEZ.
"Following the Uxbridge by-election you asked the mayor to 'reflect' on the issue, which he showed no sign of doing. Last week, you said the decision to expand ULEZ will 'disproportionately' hit people struggling with the cost of living.
"You have also let it be known that you would not favour the expansion of similar schemes in cities outside of London.
"And yet Labour's mayor is still expanding ULEZ. I invite you to make your position clear."
Mr Harper went on to tell Sir Keir that while he does not have the "legal power to prevent the ULEZ expansion being introduced, you do have the power to stop it".
Sky News has contacted the Labour Party for a response.