Controversial Labour attack adverts targeting Rishi Sunak were not a mistake and there are more to come, a senior shadow cabinet member has told Sky News.
Wes Streeting argued it was "absolutely right to take the gloves off" and hold the government to account for its record.
The social media campaign in which the opposition accuse the prime minister of failing to send child sex abusers to prison, being soft on gun crime and suggesting thieves should not be punished, has proved divisive within the party.
Politics latest – Tories set to lose 'more than 1,000 seats' in local elections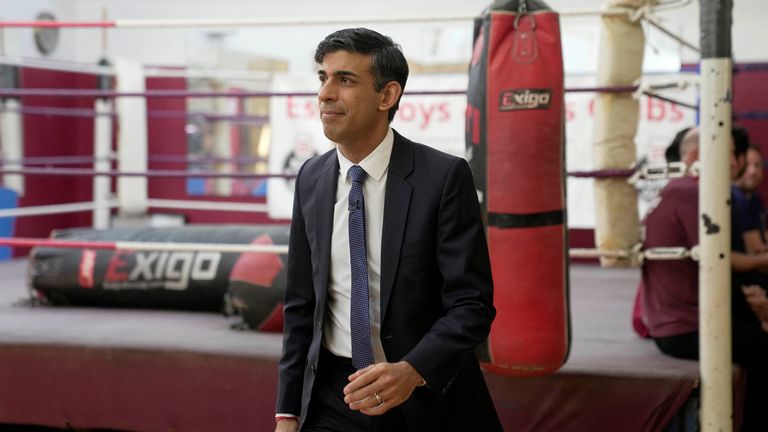 One of the ads also took aim at Mr Sunak's wife Akshata Murty and her previously held non-dom tax status.
Labour leader Sir Keir Starmer has continued to defend the adverts despite claims of "gutter politics".
The row comes as the two main parties jostle for position ahead of the local elections on 4 May.
His stance has been backed by the shadow health secretary, who insisted it was "perfectly reasonable to challenge a Conservative prime minister on the abysmal failure of 13 years of Conservative government".
Speaking to the Sophy Ridge On Sunday programme, Mr Streeting was asked whether he believed Mr Sunak thought that people who had sexually assaulted children should not go to prison.
The opposition frontbencher said: "I'd like to believe that the answer is no but look at the figures – the figures speak for themselves."
Read More:
Labour takes inspiration from Australia with Sunak attack ads
Memorable political 'attack ads' and their impact on elections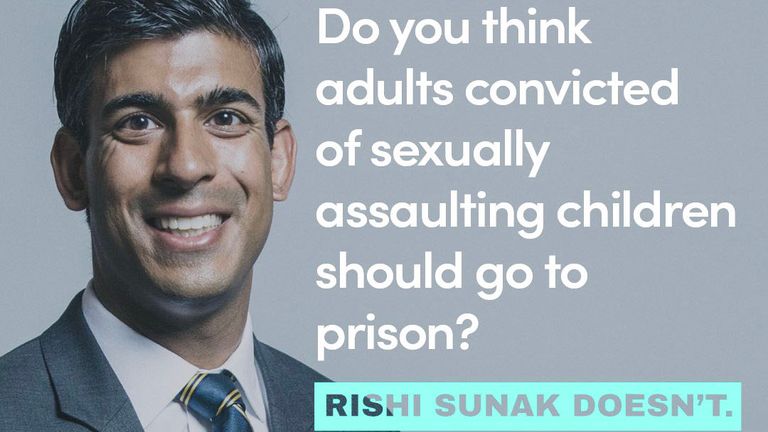 Labour cited data from the Ministry of Justice that showed 4,500 adults convicted of sex acts on children had avoided a prison sentence since the Conservatives came to power in 2010.
Mr Streeting added: "Why is he allowing this to happen?"
Referring to the claim in the advert, he said: "Well, I have to assume that he thinks that because otherwise it's either that or incompetence, isn't it?"
"Either he thinks it, which is bad, or he doesn't think it but isn't doing anything about it, which is equally bad.
"Either he's got the wrong policies and principles or he's just incompetent and can't deliver and either, I think, is a problem for the prime minister of the country.
"And Labour is absolutely right to take the gloves off and hold the government to account for 13 years of appalling failure on law and order and the economy.
"In our public services, nothing is working properly."
Click to subscribe to the Sky News Daily wherever you get your podcasts
On whether the ad offensive was a mistake, Mr Streeting said: "I don't think it was a mistake at all. I absolutely stand by Labour's ads. And there's more to come."
Meanwhile, Conservative Party chairman Greg Hands has told Sky News the party could lose 1,000 seats at the forthcoming local elections, in comments likely to be seen as expectation management with the Tories still far behind in the opinion polls.
He pointed out such a result was being predicted by experts such as Sky News's Professor Michael Thrasher.
Mr Hands said: "No one is pretending it is going to be easy.
"Last year was a very difficult year for the country, a difficult year for the government, a difficult year for the Conservative Party."
But he added: "We are fighting really hard – I've got some great councillors, great council candidates up and down the country, I've been travelling up and down the country the last couple of weeks."