A current employee in British Gas's debt recovery team has told Sky News that staff feel pressured to force the installation of prepayment energy meters on customers in debt.
The employee, speaking on condition of anonymity, said he had seen an increase in the number of indebted customers since the cost of living crisis began, and that debt recovery had become the "be all and end all".
"My role is predominantly trying to get the most out of that debt collection process. And you know, within the last 18 months, the main focus of that has been the force-fitting of prepayment meters into customers' homes," he said.
"A lot of pressure is put on that side of the business to collect more debt, to fit more meters. A lot of time is spent figuring out why, if we haven't been able to fit a meter, why and what we can do better.
"A lot of the time these customers that you speak to, they physically can't pay. They don't have any money. They can't afford their energy. It is not about them not wanting to pay, they can't pay."
British Gas has suspended its use of court warrants to force the installation of prepayment meters following a Times investigation that revealed debt collectors had forced entry into the homes of vulnerable customers.
Energy regulator Ofgem has placed British Gas under investigation and asked all other household suppliers to suspend the practice pending a review.
Forced installation of prepayment meters is intended as a last resort for use against indebted customers who refuse to pay bills, or have failed to respond to attempts by suppliers to engage, usually over a period of more than six months.
The rise in energy prices in the last year has seen an increase in the number of prepayment installations, and ministers and charities have called on companies to stop using the court process.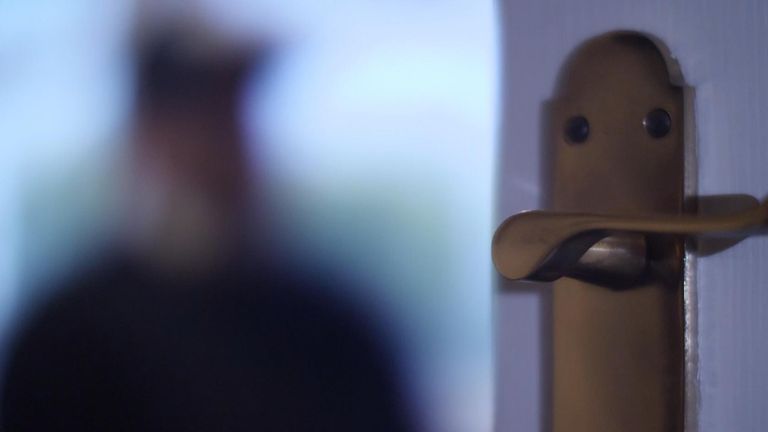 The whistleblower said he had seen an increase in vulnerable customers who he believes were simply unable to meet higher energy costs.
"In the past, it's been the vast majority of people who just avoided paying their energy, whereas now, the majority is people who are going out to work, they've got kids at home, and they're trying their best, and the best isn't good enough.
"And they're sort of being forced into this situation where they're technically at risk of being cut off unless they pile money, put money on their meter."
Read more:
The claims against British Gas prepayment meters explained
Ofgem tells suppliers to suspend forced installation of prepayment meters
Why problem of prepayment meters won't go away for vulnerable energy customers
Centrica boss 'truly sorry'

In a statement, British Gas's parent company Centrica said: "We refute this description completely. There has been no increase in the number of prepayment meters we have installed in the last 12 months. Fitting a prepayment meter under warrant has always been a last resort when a customer will not engage with us despite multiple attempts over months."
The company said installation data supported its position. British Gas supplies 27% of the UK market and has installed 16% of all prepayment meters, some 97,000 out of 600,000 in 2022. Around 20,000 of those installations were through the court warrant process with the balance requested or voluntary.
Sky News has also spoken to a woman who had a prepayment gas meter installed following a forced entry despite not being in debt and being up-to-date with direct debit payments.
The woman, a single mother of two whose identity we are protecting for personal reasons, said she came home to find contractors employed by British Gas had forced a window open.
"I still feel really violated by it," she said. "I just couldn't work out how or why they'd come in, or how they got in. Once I realised, I just felt really exposed, really vulnerable and I still feel really vulnerable because the window is still broken.
"And it's embarrassing. I got given this card that I had to go top up in a shop, it's only in specific shops you can top it up, so you're limited to how and when you can top up.
"The gas might run out in the middle of the night, and then you've got to go in, it's 9pm, and you've got two children in bed.
"I'm a single mum, I can't go out at 9pm and top up a gas card particularly not when it's not in all the local shops, so it's just been really difficult. I feel like for the last six months, all I've spoken about is British Gas."
British Gas acknowledged it had made a mistake with the forced fitting and after five months an engineer swapped her back to a credit meter.
Centrica said it would investigate her case.
In a statement, it said: "We are very sorry to read these details and we will ensure her case is looked at as part of our investigation.
"As we made clear yesterday, the allegations around our third-party contractor Arvato are unacceptable and that's why we immediately suspended their warrant activity."