Guitarist Bernie Marsden, known for performing with British rock band Whitesnake during the 1970s and 80s, has died aged 72.
The British musician died "peacefully" on Thursday, surrounded by his wife and daughters, his family said.
Along with David Coverdale, Marsden co-founded Whitesnake and worked on popular songs like Here I Go Again and Fool For Your Loving.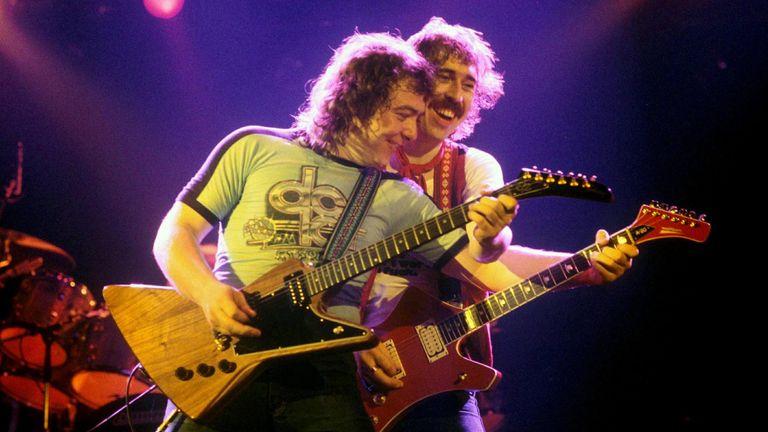 In a statement, Marsden's family said: "We are saddened to share that Bernie Marsden has passed away.
"Bernie peacefully left us on Thursday evening, with his wife Fran and daughters Charlotte & Olivia by his side.
"Bernie continued his love for music, writing, and recording until the end."
Whitesnake's lead singer Coverdale said he was "honoured" to have shared the stage with Marsden.
He wrote on X (formerly known as Twitter): "I've just woken up to the awful news that my old friend & former Snake Bernie Marsden has passed… My sincere thoughts & prayers to his beloved family, friends & fans. A genuinely funny, gifted man, whom I was honoured to know & share a stage with. RIP, Bernie."
Read more on Sky News:
Ex-One Direction star cancels tour
Supermodel Bella Hadid clashes with Israeli minister
Born in Buckingham, Marsden began his musical career with various bands before turning professional with UFO in 1972. He co-founded Whitesnake with Coverdale in 1978 and played a significant role in their music.
Aside from his Whitesnake years, Marsden recorded solo albums and played with other iconic rock musicians, such as Robert Plant, Paul Weller, Deep Purple's Jon Lord, and Gary Moore of Thin Lizzy. He was also part of Sir Ringo Starr's All Starr Band.
In his autobiography titled "Where's My Guitar: On The Tourbus With The Snakeman," self-published in 2017, Marsden shared insights into his musical journey, including private and unseen pictures from his career.