Lord Morris of Aberavon, the last surviving member of Harold Wilson's cabinet and the last surviving Labour MP elected in the 1950s, has died aged 91.
As John Morris, he was Welsh secretary under Harold Wilson and James Callaghan, and attorney general under Tony Blair.
He was one of only a handful of senior Labour politicians to serve under Wilson, Callaghan and Blair. He also served under Neil Kinnock in opposition.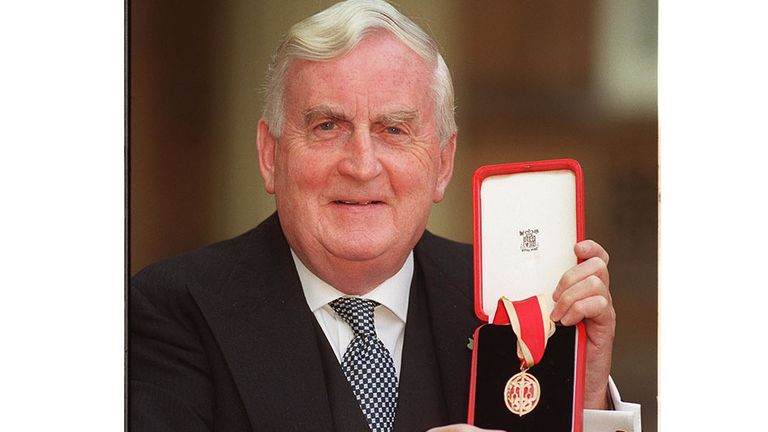 It has been claimed that Lord Morris was the "father of devolution" in Wales, after drawing up legislation in 1978 that led to a no vote in a 1979 referendum.
And although that title is disputed, he claimed his "fingers were on the strings of that harp from beginning to end" and the current Aberavon MP told Sky News that Lord Morris was indeed a "champion of devolution".
'Moral imperative' to stop small boats, says Braverman – politics latest
Stephen Kinnock, son of the former Labour leader Neil Kinnock, said: "John Morris was a Welsh Labour politician and minister of great distinction in both the Commons and the Lords.
"He served the people of my Aberavon constituency with dedication and huge commitment for 40 years and my deepest sympathies go to Margaret and his family.
"He was a great legal brain and played an absolutely crucial role as attorney general in the British government and he was a leader in Welsh politics, as a champion of devolution and a source of wisdom, in particular on the legal and constitutional aspects of the devolution process."
A leading barrister and later a QC, Lord Morris became an MP in 1959 and, as a Labour MP for 41 years, was the longest-serving Welsh MP in parliament.
Together with his time in the House of Lords, after a peerage when he left the Commons in 2001, Lord Morris served in parliament for 60 years.
In Wilson's 1964-70 government, he was a junior minister at both the ministry of power and ministry of transport, before becoming minister of state for defence during the war in Biafra.
He was Welsh secretary throughout the whole of the 1974-79 Labour government and attorney general from 1997 to 1999 during the conflict in Kosovo.
Read more:
Left-wing Labour mayor not ruling out legal action over blocked candidacy
Rishi Sunak says two more barges will be used to house about 1,000 asylum seekers
As secretary of state for Wales, he drafted the devolution bill passed by Callaghan's government in 1978 which paved the way for the 1979 referendum.
But that vote was lost, as only just over 20% of the electorate voted in favour of the creation of an assembly in Wales.
"I had no idea the defeat would be such a big one," Lord Morris said in a 2015 TV documentary. "The truth had to be faced, we had failed abysmally."
He claimed, however, that the devolution proposals in that 1979 referendum were largely the same as were put to the public in 1997 by the Blair government.
"There was very little difference between the old Act of 1978 and the new one," he said. "It's the same piece of legislation.
"New work wasn't needed and that's how the measure was prepared so quickly. My fingers were on the strings of that harp from beginning to end."
The 1997 referendum was won, narrowly with just over 50% of the vote in favour, and in 2011 a referendum to give the assembly law-making powers secured a 63.5% Yes vote.