A retired surgeon says she was harassed in "almost half the jobs" she worked as a junior trainee.
Dr Liz O'Riordan spoke out as a new survey found almost a third of NHS female surgical staff have been sexually assaulted in the last five years.
Among the UK's surgical workforce, 63% of women and 23% of men have experienced being sexually harassed by colleagues, the study found.
Assaults ranged from genitals or breasts being touched to rape.
Dr O'Riordan, a retired onco-plastic breast surgeon, said she was shocked "it's still happening today", after experiencing repeated harassment during her training.
"When I was operating, one of my consultants asked across the table 'Who was I sleeping with?' Because I 'look like I could go a round or two'," she told Sky News.
"At the time when I was training, it was common – surgery was and still is a male-dominated environment. And when you're in the operating theatre, you are very vulnerable.
"You are wearing thin scrubs, stood shoulder to knee with the men you're working with for many hours at a time.
"And it's very easy for lewd comments or wandering hands to enter your field."
Surgical staff sexually assaulted

Read more:
Third of UK medical students plan to quit NHS to move abroad
Weight-loss jab made available on NHS
Dr O'Riordan said many surgeons feared being labelled "difficult" if they raised a complaint and worried that the men would refuse to train them.
"I think it's a small number of repeat offenders, but because women make up such a small amount of the workforce, then they are likely to work with these men," Dr O'Riordan said.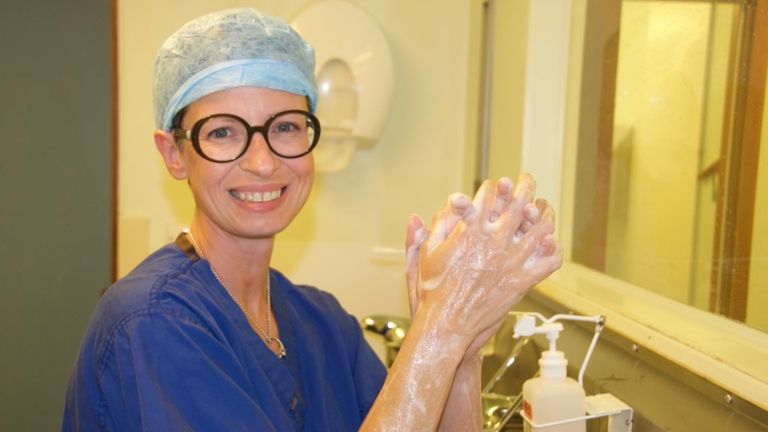 Surgeons 'slow' to speak out
Tim Mitchell, the president of the Royal College of Surgeons, told Sky News he regretted instances where he had not been quick to speak out.
"I still am working as a surgeon and I have been aware of circumstances. I have called people out on occasions, been aggressive in the past.
"I may have not been quick enough to do that.
"It's quite difficult to do in the heat of the moment, but we need to encourage people to call out such behaviour so that we can around cases."