Doctors who contracted COVID-19 on the frontline and are still living with the ongoing symptoms of the virus have been left in financial limbo as they struggle to return to work.
The British Medical Association (BMA) found one in five doctors with long COVID had been forced to stop work or significantly cut back on their hours.
Dr Amy Small had been a GP partner in Edinburgh.
She contracted COVID-19 in April 2020 but her symptoms persisted and snowballed.
Dr Small told Sky News: "In the first six months to a year and a half, daily I had awful fatigue to the point I couldn't eat because my jaw was too sore because chewing made my muscles hurt.
"I had headaches and I had a daily fever for seven months. I still get fevers very easily if my kids catch colds. I had tinnitus, I had awful aches and pains in my body, I was so breathless I couldn't walk up the stairs without stopping once or twice for many months."
After six months off work, she eventually lost her job because her condition left her unable to keep up.
"It was devastating, my husband also had long COVID, at the time that I lost my job his pay was halving, my roof was leaking, I had to pay for a kid in full-time nursery and we risked losing everything at that point. I thought we were going to lose our house, we were really facing really really challenging times."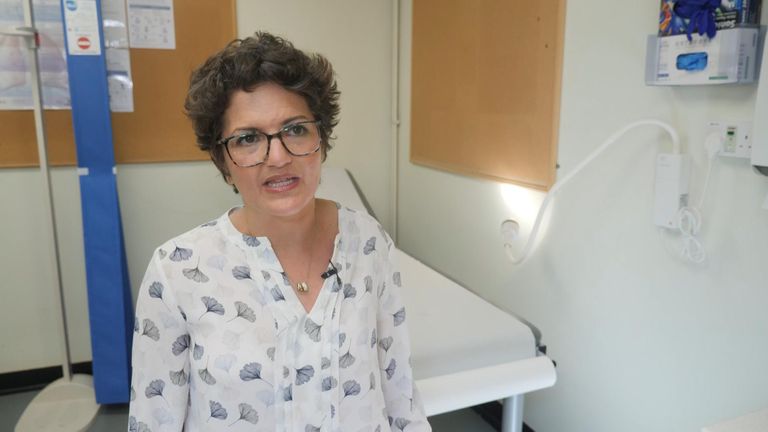 The BMA surveyed some 600 doctors, with 48% saying they've experienced loss of earnings as a result of long COVID symptoms.
The BMA say those medics need support while they recover.
Professor David Strain, chair of the BMA's board of science, told Sky News: "We cannot afford to have fully trained, very able staff, not able to do the job they've been trained for at this moment, it's a disaster in a health service that is very short-staffed already.
"There are many doctors who've actually retired on health grounds – and feel they're not able to work at all and that in order to be able to get back to work going forward they need to be given additional support – but there are many others who are way too young to have a retirement plan in place but are too unwell to return.
"They need to be able to be given the financial support to allow them to focus on getting better whilst they're in this position."
Dr Small moved to Sheffield where she now works as a part-time GP and for a charity.
She says she's in a considerably better state than when she first contracted the virus but still has some health complications.
"The symptoms were endless like many others and it comes back now and again."
Read more:
How long COVID ruined my life
Hope for long COVID treatment breakthrough
Diabetes drug could reduce chances of getting long COVID
Dr Small says this is far from an issue in the past – long COVID continues to take so much from so many.
"So many of us are still ill, many of us have lost our jobs and their houses and their livelihoods, and they're not likely to get them back anytime soon so this isn't a past problem, it's a very live problem which is going to have ongoing consequences for many years."
A Department of Health and Social Care spokesperson told Sky News: "Long COVID can have a debilitating impact and we are backing our world-leading scientists with over £50 million to better understand the long-term effects of this virus and make treatments available.
"NHS staff are able to seek support for long COVID from their GP or one of the 100 specialist clinics available nationwide. The NHS has also committed £324 million to support people with ongoing symptoms of long COVID."