The Port of Dover has announced an end to its critical incident following a weekend of travel chaos which saw some coach passengers caught up in 14-hour-long queues.
The port declared a critical incident on Friday with coaches particularly affected by the traffic as passengers – including school pupils – waited to be processed at border controls.
Those hoping to get away for their Easter break on Sunday night faced a few more hours waiting to be processed at border controls before getting on a ferry.
But in its latest statement on Monday morning, the port said all coach traffic had now been processed through immigration controls.
"The critical incident has been stood down," the port said in its statement.
"The Port of Dover continued working round the clock with the ferry operators and border agencies to get coach passengers on their way and the backlog is now cleared.
"Along with the final coaches being processed through the port, all tourist cars and freight vehicles were also processed successfully.
"We continue to offer our sincere apologies to all those affected by the prolonged delays that have occurred over this weekend."
A "full review" will now be launched by the port to ensure "improvements are made" ahead of Easter weekend – typically one of the busiest travel days of the year in the UK.
On Monday, P&O Ferries also announced that a buffer zone – set up to control traffic entering the port – had been cleared.
P&O Ferries previously advised coach drivers to head straight to the port to wait in buffer zone queues, where advance passenger information (AP) would be taken, and warned there could be a 10-hour wait.
"All coaches that have just passed border control will be on the next crossing to Calais. We apologise again for the wait times experienced in Dover this weekend," the company said in a statement.
Is Brexit a factor?
On Sunday, Home Secretary Suella Braverman denied Brexit was the main reason for the queues.
Speaking to Sky's Sophy Ridge on Sunday, she said: "I don't think that is fair to say that this is an adverse effect of Brexit.
'Situation improving' in Dover

"I think we have seen we have had many years now since leaving the European Union and there's been, on the whole, very good cooperation and processes.
"But at acute times, when there's a lot of pressure crossing the Channel whether the tunnel or the ferries, then I think there's always going to be a backup.
"And I just urge everyone to be a bit patient while the ferry companies work their way through the backlog."
The home secretary also downplayed fears that delays at Dover could become a regular occurrence that risks ruining school holiday plans, suggesting things have been "operating very smoothly at the border" in general.
But Conservative MP and former minister Sir Robert Buckland suggested Brexit had played a part in the disruption.
He said: "I think for my layman's eye, looking on, it does seem that there's a confluence of issues.
"I think that there's no doubt that some of the increased checks that now are necessary since we left the EU will be a part of that.
"I think it's all the authorities on both sides of the channel, both the French and the British authorities, have to work even harder to make sure that those short straits are working as effectively as possible at times of maximum pressure."
Conservative MP for Bournemouth East, Tobias Ellwood, also blamed Brexit. In a Tweet, he wrote: "Of course, it's connected to Brexit.
"Our current Brexit model resulted in an end to travel freedoms. But as they weren't replaced with new ones – processing takes longer – hence the delays.
"To compound matters – in November fingerprint scans begin. Hence we need a Brexit upgrade."
'Carnage'
Extra sailings were run over the weekend in a bid to clear the backlog, but by Sunday morning the port still estimated some travellers would face waits of up to eight hours, depending on the ferry operator.
The port had previously declared a critical incident and said the delays were "due to lengthy French border processes and sheer volume".
Port officials said they had been "working round the clock" with ferry operators and border agencies to try to get coach passengers on their way and more than 300 coaches left the port on Saturday, while the freight backlog was cleared and tourist cars had been successfully processed.
Read more UK news:
Nine-year-old Olivia Pratt-Korbel's killer to be sentenced
Five-week walkout by Passport Office workers begins
'Political correctness' will not stop crackdown on 'vile' grooming gangs, says Sunak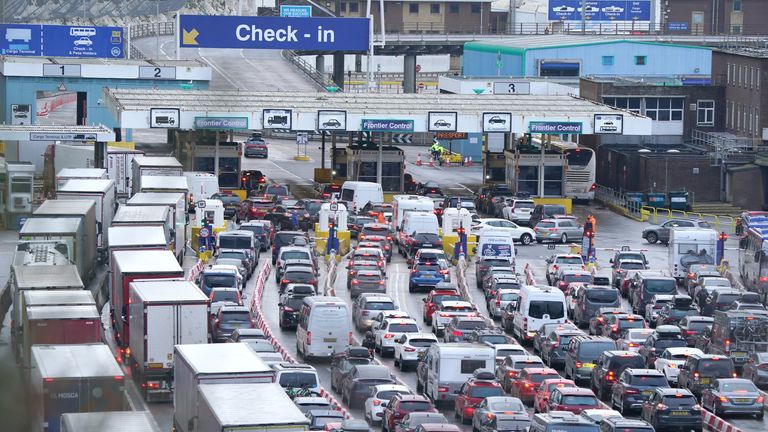 One passenger, Rosie Pearson, described the travel scenes in Dover on Saturday as "carnage" as she was stuck for 16 hours with her husband and two teenagers.
The 50-year-old environmental campaigner from Essex was travelling to Val d'Isere in the French Alps on an overnight bus.
'It didn't need to be this way'
Shadow levelling up secretary Lisa Nandy said "a range of factors" have caused the delays, but said the government had not planned for what was going to happen post-Brexit.
She told Sophy Ridge On Sunday that ministers had "known for a very long time that they needed to make sure that there were resources in place to deal with additional paperwork checks".
"The point is not whether we left the European Union or not. The point was that we left with a government that made big promises and once again didn't deliver," she said.
"I really feel for the families that are trying to get away for an Easter break, people who have been caught up in this chaos, people whose livelihoods are threatened.
"It didn't need to be this way. If the government got a grip, got down to brass tacks and started doing their actual job, all these things could be avoided."