This budget has done nothing to bring back the 'feel-good' factor | Politics News
We'll get to the economics in a moment but let's reflect first of all on perhaps the most remarkable thing about this budget. Which is that this was, just about, a "normal" budget – the first "normal" budget in three years.
Think about it: first, there was COVID, during which the normal rules about economic policymaking dissolved away. Enormous giveaways (most obviously the furlough scheme) took place on the hoof, accompanied by few figures and no red book.
Then came Liz Truss's astounding mini-budget and Jeremy Hunt's equally surreal autumn statement which essentially undid everything that came before it.
Tot it all up and we haven't had anything resembling regular fiscal policy – which is to say six monthly sets of strategic tax and spending changes accompanied by robust, detailed economic analysis – for a long time. If today's event felt somewhat boring, it was in part because what came before it was so intense.
Click here for our budget calculator to see if you are better or worse off
The big picture for the UK economy is a little bit better than last time around.
That might sound encouraging, until you recall that the outlook last time around was utterly grim: the worst two years for household disposable income in modern record; an enormous squeeze in the cost of living, augmented by a rise in certain taxes as the government sought to repair the mess of the mini-budget.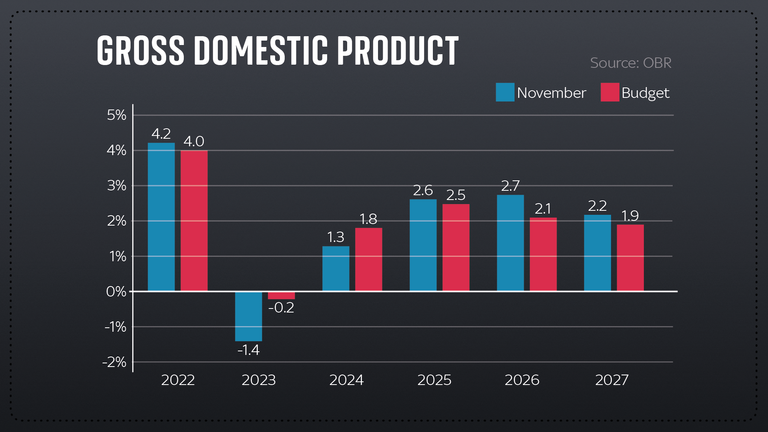 On the basis of today's budget, the UK should just about skirt clear of a technical recession (two successive quarters of contraction), but will do little more than flatline for most of this year.
Household disposable income will not contract by as much as expected last time around, but this year and next will still be the worst for families' finances since at least the 1950s. Things are looking better, but still bad.
Nor is there much sign that the measures contained in today's budget will move the dial that much. In one respect this is a little strange since many of the measures here might be considered textbook "pro-growth".
There's the increase in provision of childcare, which should help encourage more young parents back into the workforce. There's the increase in the pensions lifetime allowance which should help encourage well-off older workers to get working again.
Read more:
Budget news – live: Have we seen 'giveaway to rich'?
The key points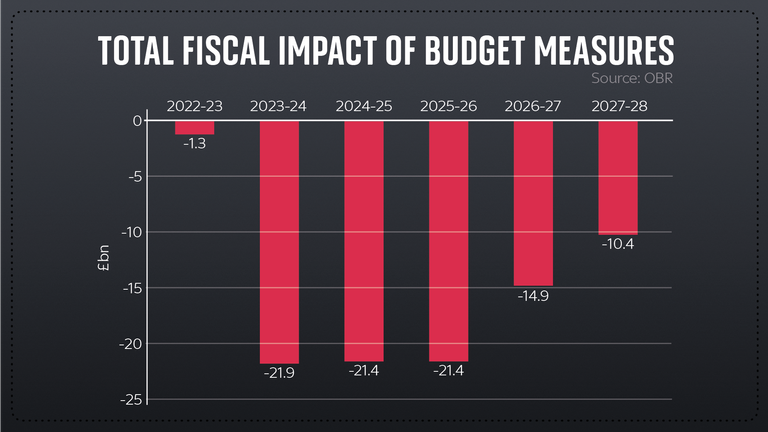 Then there's the biggest of all the measures – full expensing, whereby businesses can offset their investments against their tax bills. This is precisely the policy business groups have been calling for for years, claiming it would boost investment and hence drive forward productivity.
Yet tot up all these measures and, according to the Office for Budget Responsibility, they raise economic growth by a measly 0.3 per cent at their peak, before dropping back eventually to zero.
Part of the reason is that some of these policies are time-limited – most notably full expensing which is technically only due to last for three years. The Treasury says it wants it to be permanent, only at the moment, it can't quite afford it.
That's not, it should be said, because of any concrete limitation on its ability to spend but because of its self-imposed fiscal rules, which are far less of a constraint than you might imagine.
Anyway, the upshot is that the OBR thinks the growth boost delivered by all this effort is quite small.
Then again, the OBR's forecasts are considerably more optimistic than the Bank of England, which thinks that far from rebounding rapidly, the UK is likely to see economic growth flatline for the coming years, barely making good any of the income foregone in recent years.
Key moments from Jeremy Hunt's first budget

Put it all together and it's hard not to conclude that this was primarily a technical budget.
There are bits and pieces in there for households – the retention of the £2,500 energy price guarantee level, the childcare provisions and the pension tax-free allowance (primarily for the better-off) – but it's hard to see how any of this can remedy the enormous financial crunch most households are going to face in the coming months.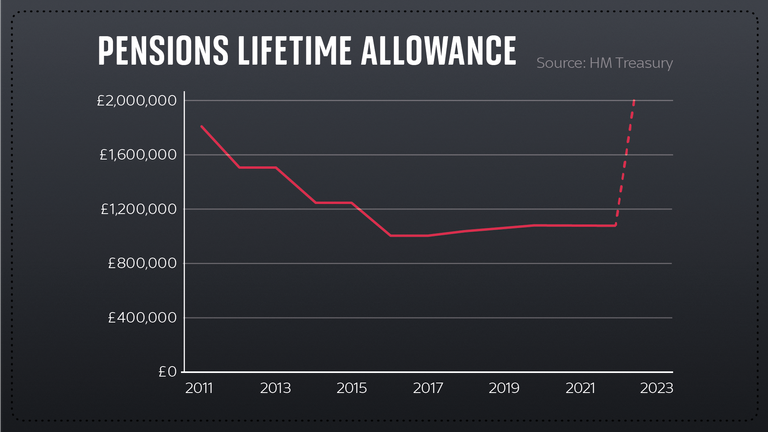 They will see inflation continuing to bite, they will feel the impact of higher interest rates and they will see ever greater chunks of their income going to the exchequer (as a result of the freeze in tax-free personal allowances announced last autumn).
It is the opposite of the "feel-good factor" – the feel-bad factor.
And the budget did nothing to remedy this. It did nothing to remedy the problems young people face in trying to get on the housing ladder. It did nothing to provide a coherent response to Joe Biden's Inflation Reduction Act.
Then again, there are still two big fiscal events left before the likely date of the next election, late next year. If there's a splurge coming it's likely to happen then.