Top aide questioned Boris Johnson's plan to say 'all COVID guidance was followed' over partygate | Politics News
A senior civil servant questioned whether Boris Johnson should say COVID guidance had been followed at all times in Downing Street, according to new evidence published by MPs investigating whether he lied over partygate.
In written evidence from Martin Reynolds, the former principal private secretary, he said he questioned whether it was "realistic" to make this claim, given the nature of the working environment in No 10.
He said he asked Mr Johnson about the line proposed for PMQs on 7 December, adding: "He did not welcome the interruption but told me that he had received reassurances that the comms event was within the rules. I accepted this but questioned whether it was realistic to argue that all guidance had been followed at all times, given the nature of the working environment in No 10."
Mr Reynolds said he agreed to delete the reference to guidance.
The evidence has been published ahead of Mr Johnson being questioned by the privileges committee this afternoon on whether he misled parliament over partygate denials.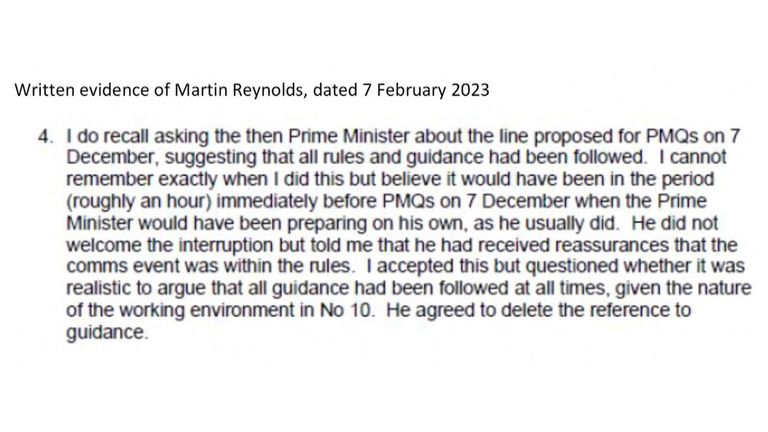 Ahead of its publication, a source close to the former prime minister said his team believe the new documents are generally helpful to them.
But they have criticised the fact that not all of the evidence Mr Johnson wanted published has gone into the bundle.
All seven committee members, led by Labour veteran Harriet Harman but with a Tory majority, will use Mr Johnson's appearance to determine if he deliberately misled the Commons when he told MPs no COVID rules or guidance had been broken.
On the eve of his appearance, the former prime minister repeated his denial that he had not done anything wrong and said he was looking forward to the hearing.