All pupils in England to study maths until 18 under Rishi Sunak's 'new mission' | Politics News
Pupils in England will study maths up until the age of 18 under plans to be unveiled by Rishi Sunak.
The prime minister will say there is a need to "reimagine our approach to numeracy" in his first speech of the year on Wednesday, adding: "Letting our children out into the world without those skills is letting our children down."
The details of the prime minister's "new mission" will be announced "in due course", Number 10 said, though the government did not "envisage" making maths A-Level compulsory.
Downing Street says NHS has 'funding it needs' – politics latest
Labour said it would be "an empty pledge" if they could not recruit more maths teachers.
Around eight million adults in England have the numeracy skills of primary school children, according to government figures, while 60% of disadvantaged pupils do not have basic maths skills at 16.
"One of the biggest changes in mindset we need in education today is to reimagine our approach to numeracy," Mr Sunak is expected to say.
"Right now, just half of all 16-year-olds study any maths at all. Yet in a world where data is everywhere and statistics underpin every job, our children's jobs will require more analytical skills than ever before."
The prime minister wants pupils to study some form of maths until 18, with the government exploring the right route, including the Core Maths qualifications, T-Levels and "more innovative options".
During the speech, Mr Sunak is expected to "acknowledge that reform on this scale won't be easy", meaning the policy will not come into force until the next parliament.
He will say the issue is "personal" for him, because the "single most important reason" he entered politics was "to give every child the highest possible standard of education".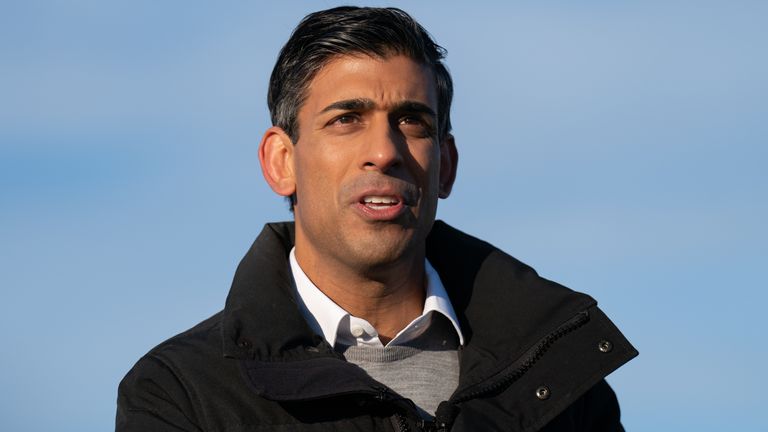 Sunak needs to 'show his working'
The pledge appears to be a watered-down version of an education policy from last summer's Conservative leadership contest.
Mr Sunak said then that he wanted to create a new British Baccalaureate requiring all 16-year-olds to study core subjects, including maths and English, beyond GCSE level.
Downing Street said pupils studying maths until 18 would put England on a par with most other OECD countries, including Australia, Canada, Finland, France, Germany, Japan, Norway and the United States.
Labour's shadow education secretary, Bridget Phillipson, criticised the plan, calling on Mr Sunak to "show his working".
"He cannot deliver this reheated, empty pledge without more maths teachers, yet the government has missed their target for new maths teachers year after year, with existing teachers leaving in their droves," she said.
"Now, maths attainment gaps are widening yet Rishi Sunak as chancellor said the country had 'maxed out' on Covid recovery support for our children."
Ms Phillipson said the party would end tax breaks for private schools and use the money to invest in 6,500 more teachers, including maths teachers, "to drive up standards in this country".
Liberal Democrat MP Munira Wilson echoed Labour's sentiment, saying: "The prime minister's words mean nothing without the extra funding and staff to make it happen."
She added: "You don't need a maths A-Level to know it takes more teachers to teach maths to age 18 than to 16.
"But schools are already struggling with a shortage of maths teachers, and the Conservatives have no plan to turn that around."